Best Affiliate Marketing Programs – Your Path to Profitable Partnerships
In the vast world of affiliate marketing, success often begins with choosing the right affiliate programs. Whether you're new to affiliate marketing or looking to expand your portfolio, the best affiliate marketing programs can be your gateway to profitable partnerships. This comprehensive guide is designed to help you discover the top affiliate programs, encompassing both physical products and digital products or software, to boost your affiliate marketing journey.
Introduction
Imagine a world where your passion for products and your online presence could translate into substantial income. That world is the realm of affiliate marketing. As you learn the principles of affiliate marketing you will start to associate specific networks with niches.
Affiliate marketing programs serve as the backbone of this industry, connecting marketers with products and services they can promote. You can't get far without joining one of the affiliate programs in your niche. You take products that you want to promote and create an array of content in text video or another format to help and guide buyers to a purchase where you are paid a commission in return.
In this article, we'll explore a carefully curated list of the best affiliate marketing programs, ranging from those dealing in physical products to those offering digital products and software.
Affiliate Programs for Physical Products
1. Amazon Associates
Overview: Amazon Associates is a juggernaut in the affiliate marketing world, renowned for its vast array of physical products. As an affiliate, you can promote products ranging from electronics and fashion to home decor and more.
Pros:
Reliability: Amazon's reputation and reliability make it a trusted choice for affiliates.
High Conversion Rates: With its vast product catalogue, Amazon often boasts high conversion rates.
Ease of Integration: Integration is straightforward, thanks to a wide range of tools and plugins.
Cons:
Fee Structure: While the program is free to join, commission rates can vary based on product categories, and they might be lower than some competitors.
Strict AF: The associate's program is governed with an iron fist, they don't care for anyone who steps out of line even by a smidge. Make a mistake and your account could be frozen or disabled. Good luck trying to get it back.
Personally, I've not been amazed at this program for the work I put in. The low commission rates, the constant changing of these payout rates and the super strict rules make it a difficult program to be on top of.
The potential earnings are huge, everyone buys from Amazon and there's a high chance your buyer will purchase multiple things in one visit, meaning you get the commission on everything that they buy.
This affiliate network is good for beginners starting out or those who like the upside Amazon as a brand brings to products that they promote.
I attended a Amazon sellers group visit to Yiwu China to get a first hand look at manufacturers and logistics for my brand at the time. I met a handful of people at various stages of their journey. My focus was more on e-commerce for this trip but well worth it.
2. ShareASale
Overview: ShareASale is a versatile platform known for its diverse selection of affiliate programs in various niches, offering a broad spectrum of physical products for promotion.
Pros:
Diversity: ShareASale provides access to an extensive network of merchants spanning numerous industries.
User-Friendly: The platform is user-friendly, making it an attractive choice for both beginners and seasoned affiliates.
Hidden Gems: You can find some really hot products when you know what to look for, Has something for everyone.
Cons:
Fees: ShareASale charges a $550 network access fee, which may be a hurdle for some newcomers.
Contact: There are active brands using the platform and their are a lot of brands that fail to contact you or communicate at all. 
One of my favourite platforms for finding solid products. Share A Sale provides an easy-to-use, easy-to-navigate no fuss affiliate platform. Excellent for beginners and intermediates.
3. CJ Affiliate (formerly Commission Junction)
Overview: CJ Affiliate is a platform that connects affiliates with reputable brands, offering a wide range of physical products for promotion.
Pros:
Diverse Product Selection: CJ Affiliate boasts a vast array of products across various niches.
Robust Reporting: The program provides robust reporting and tracking features to help affiliates monitor their performance.
Weekly Reporting: I enjoy seeing my weekly affiliate snapshot it helps drive me to do more and focus on my work. Nothing better than gamifying the affiliate payout report.
Cons:
Quality Varies: The quality of affiliate programs can vary, so due diligence in product selection is necessary. Some products are stinkers.
Learning Curve: Newcomers might face a learning curve in navigating the platform and understanding its features.
Sidenote: CJ also has a new program called CJ Dropshipping that is a pretty reliable option for anyone who wants to dropship products from CJ's database of vendors.
In the next section, we'll explore affiliate programs tailored to digital products and software, including ClickBank, PartnerStack, and JVZoo, and delve into their respective pros, cons, and associated fees.
Affiliate Programs for Digital Products and Software
4. ClickBank
Overview: ClickBank is a leading platform in the digital product affiliate marketing realm. It offers an extensive range of digital products, from e-books and online courses to software tools and digital downloads.
Pros:
Vast Product Selection: ClickBank boasts a diverse product catalogue, making it suitable for affiliates in various niches.
Lucrative Commissions: The platform is known for its high commission rates, often exceeding 50% or even 75% of the product's price.
Ease of Use: ClickBank's user-friendly interface simplifies the process of finding, promoting, and tracking digital products.
Education centre: They really put a lot of effort into educating the affiliates with several free and paid courses designed to help train a new wave of affiliate marketers.
Cons:
Quality Varies: While ClickBank offers a plethora of products, the quality and value of some may not meet your expectations. Due diligence is essential.
Refund Rates: Some products may have high refund rates, affecting your commissions.
Vendor Credibility: Tied to the above point some vendors are serial pests who release product after product with little care factor for customers
If you want to sell digital products then ClickBank is the one-stop shop. The biggest marketplace for digital products for affiliates and most likely the place everyone starts their affiliate journey.
5. PartnerStack (formerly GrowSumo)
Overview: PartnerStack specializes in software and SaaS products, making it an ideal choice for affiliates looking to promote digital solutions and software tools.
Pros:
Recurring Commissions: PartnerStack often features software products with subscription models, allowing affiliates to earn recurring commissions.
Growth Opportunities: As the software industry continues to expand, PartnerStack provides opportunities for affiliates to grow alongside it.
Cons:
Specific Niche: PartnerStack primarily caters to the software niche, so it may not be suitable for affiliates in other industries.
Competition: Given the software niche's popularity, competition among affiliates can be fierce.
6. Rakuten Advertising
Overview: Rakuten Advertising offers a mix of physical and digital products across diverse categories.
Advantages: Discover the program's global reach and its ability to cater to affiliates seeking a variety of products.
I found their sign up process overwhelming and clunky as heck, I also found the continual developer updates to links a real headache.
Saying that once I was setup and had the latest links and API ready to go this was a breeze to use. I like that there's a few plugins and apps out there that automate the product listings and can pull in the products for you.
7. JVZoo
Overview: JVZoo is a renowned platform in the digital product and software affiliate marketing landscape, catering to affiliates primarily in the online marketing niche.
Pros:
Diverse Product Range: JVZoo offers a wide array of digital products, including software, e-books, and online courses.
Timely Payments: Affiliates appreciate JVZoo's prompt and reliable payment system.
Active Affiliate Community: The platform fosters an active affiliate community, offering opportunities for networking and collaboration.
Cons:
Product Quality: The quality of products on JVZoo can vary, so careful product selection is crucial.
Learning Curve: New affiliates may encounter a learning curve when navigating JVZoo's platform and features.
Fees: JVZoo may charge fees for certain transactions, impacting your overall earnings.
In the next section, we'll delve into essential considerations for choosing the right affiliate programs, share tips for success in affiliate marketing, and emphasize the importance of compliance and ethics in your affiliate marketing endeavors.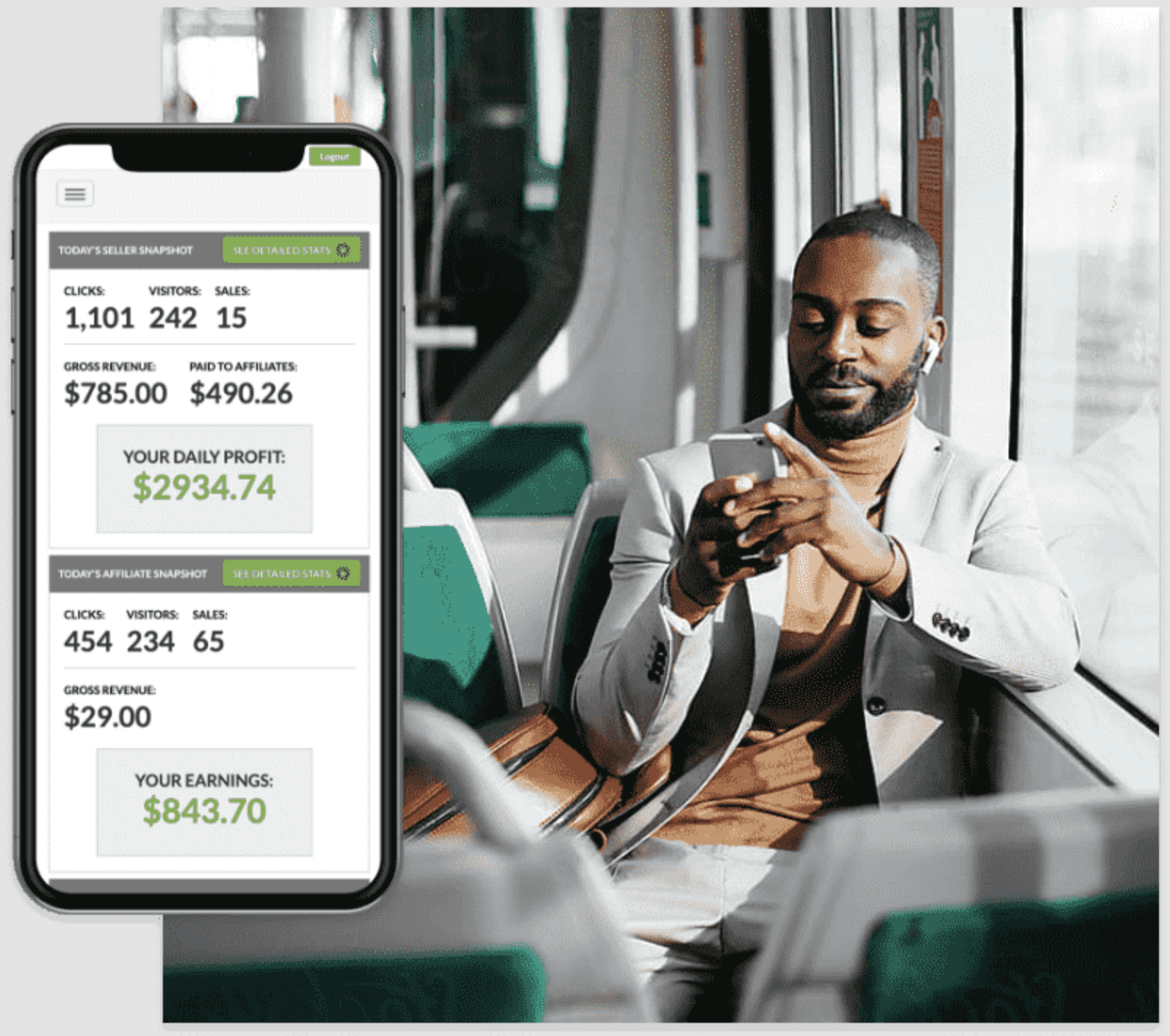 How to Choose the Right Affiliate Programs
Choosing the right affiliate programs is a pivotal decision in your affiliate marketing journey. Here are key factors to consider:
Factors to Consider:
Niche Relevance: Opt for programs that align with your niche or area of expertise, ensuring that you can genuinely connect with your target audience.
Commission Rates: Evaluate commission rates offered by different programs. While high rates can be attractive, also consider the program's overall reputation and conversion potential.
Tracking Capabilities: Look for programs with robust tracking and reporting tools that allow you to monitor your performance effectively.
Research Tips:
Read Reviews: Explore affiliate program reviews and testimonials to gain insights into the experiences of other affiliates. 
Seek Recommendations: Don't hesitate to seek recommendations from fellow marketers who may have valuable insights into profitable affiliate programs.
Related: How to write affiliate review guides
Tips for Success in Affiliate Marketing
Achieving success in affiliate marketing involves strategic efforts and effective practices. There are many ways to monetize a blog or video and you are just getting started.
Here are some tips to guide you:
Content Creation:
Quality over Quantity: Prioritize creating high-quality, informative, and engaging content that genuinely adds value to your audience.
Product Relevance: Ensure that the products you promote align with your content and resonate with your audience's needs and interests.
Receive valuable tips on crafting high-quality, persuasive content that effectively promotes affiliate products.
Promotion Strategies:
Explore various promotion strategies, from SEO optimization to email marketing and social media tactics, to boost your affiliate marketing endeavors.
SEO Optimization: Invest in search engine optimization to enhance your content's visibility and attract organic traffic.
Email Marketing: Utilize email marketing to build a loyal subscriber base and nurture relationships with your audience.
Social Media: Leverage social media platforms to expand your reach and engage with potential customers.
Compliance and Ethics:
Understand the importance of adhering to ethical practices and legal guidelines in the world of affiliate marketing.
Disclose Your Affiliation: Maintain transparency by disclosing your affiliate relationships to your audience. Compliance with legal guidelines, such as FTC regulations, is essential.
Ethical Marketing: Uphold ethical marketing practices, ensuring that your promotions are honest, accurate, and fair.
Conclusion
In closing, affiliate marketing programs are the foundation upon which your affiliate marketing success is built. Whether you're promoting physical products or digital offerings, choosing the right programs sets the stage for profitable partnerships. With the insights provided in this guide, you now have a roadmap to navigate the world of affiliate marketing.
Believe in your potential to build fruitful partnerships and earn commissions through these carefully curated programs. As you embark on your affiliate marketing journey, remember that success lies in a combination of smart choices, high-quality content, effective promotion, and ethical conduct.
Your path to profitable partnerships begins with informed decisions and a commitment to ethical marketing practices. As you explore the affiliate programs mentioned here, conduct thorough research, and apply the tips for success, you're well on your way to carving your niche in the ever-evolving landscape of affiliate marketing. Happy affiliate marketing!
Affiliate marketing is a world of opportunity, and the best affiliate marketing programs are your stepping stones to a profitable venture where you smash your business goals. Start exploring, building partnerships, and watching your affiliate marketing efforts transform into tangible results. Your path to profitable partnerships begins now.