Learn: How To Build An Ecommerce Brand
This is an extensive training module for those wanting to start their own eCommerce brand and start making sales.
Unlock High Performance for your Ecommerce Brand
Everything you need to know to build and grow a successful ecommerce brand that crush your goals —
from fundamentals to advanced strategies and all the in-between.
Starting A Ecommerce Brand
The first place you should start is with a product. Ecommerce does not exist without a product. My advice is know what niche category you are interested in before you start dreaming of the money. Once you build the store it can become a monster very quickly and if you do not have strong feelings about the products then you will lose interest in a matter of time.
Trust me I've been there before :(
Learning Ecommerce Begins Here 
Enjoy these topic resources.
Ecommerce Fundamentals
The foundations for success are every ecommerce brands critical pillars in place that help the brand operate and eventually scale.
Ecommerce Operations
The heart behind every ecommerce brand is its operations team. The people who make it all tick over on the backend, with systems, procedures processes and structure. 
Ecommerce Backend Ops
The backend operations of a successful ecommerce brand are not always the glamorous jobs. These jobs include product selection, research, analysis logistics, shipping, packaging, bundles and funnels.
Ecommerce Websites
Every ecommerce brand has some form of content management system CMS or website for holding their product content. The big players are Woocommerce & Shopify.
Ecommerce Advertising & Marketing
Here goes your text ... Select any part of your text to access the formatting toolbar.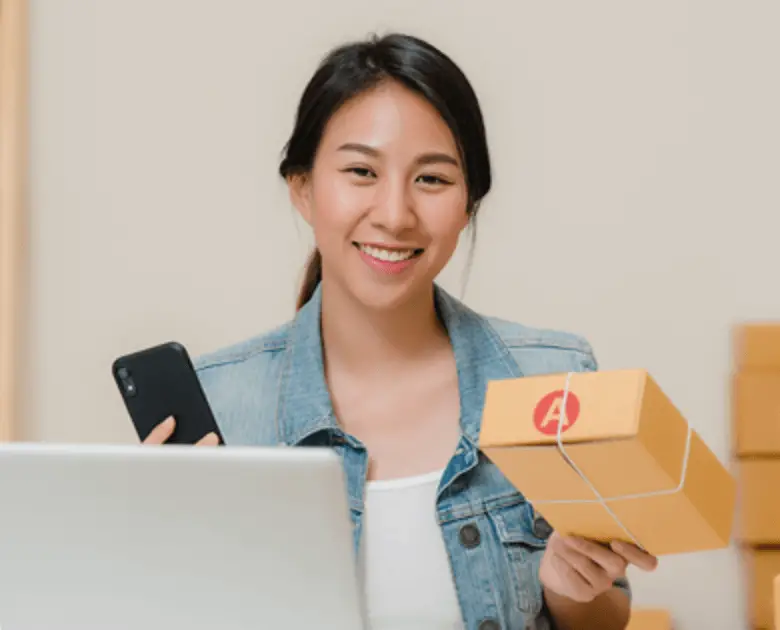 Ecommerce Customer Acquisition
Here goes your text ... Select any part of your text to access the formatting toolbar.
How You Can Start Your Own Ecommerce Brand
I'll warn you now this is hard work and you need to be committed.
The reward is worth the time invested and you can build products that really do help people.
My goal for you is to be able to build a ​streamlined, scalable, and sellable​ business ​asset that becomes more profitable and enjoyable to run overtime…
And you can work when and how you choose:
> No bad managers or bosses. I show you how to train your manufacturers, customers and partners to listen and understand your value to their business.
> No horror customers. You will learn how to part ways with bad customers and retain full reputation management.
> How you can only attend meetings that matter.. save more time. 💤
> Take time out to holiday and spend time with loved ones 👨‍👩‍👧‍👧​ and business continues to turn over.
> Control what you work on each day.
> Work from home or an office you decide. No more stuck on the freeway traffic standstill. 🚗​
> You will learn how to delegate tasks to the most appropriate resource. This frees you up to build the business.
I hope you can start to see how lucrative this is to your finances, your health and mental stimulation. Build a business you love to work in and satisfy the mind.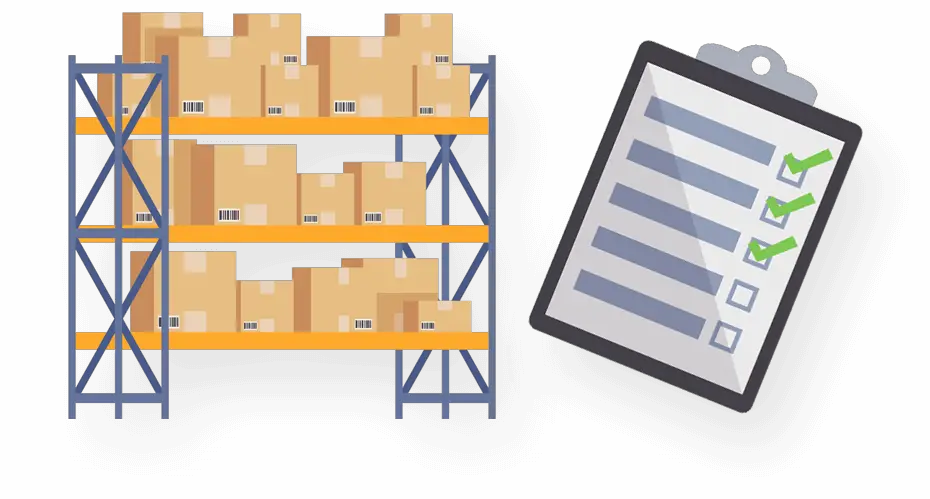 Do You Want To Build Your Own Brand?
This is totally doable…even if you're a complete beginner…or tried and failed before I got you.
I sold one of my stores for $300k and Now I consult very large eCommerce brands as a marketing consultant.
You can ​build a great & profitable business with an incredibly high probability of success​…
You see, most businesses fail, but I'm confident I've cracked the code to flip the odds well into your favour…
Does this sound like something you'd be interested in?
​What ends up happening to most people in this industry who set out to sell products and grow sales in order to quit their day job or supplement their current income is they set up their business in ways that…
…increases the amount of work to build a highly profitable business by 100x+
…decreases the chances of becoming highly profitable
…causes them to work 60-80 hours a week
…​makes their business ​worthless to another business — yes, literally $0.
Section 1 Selling Online
Section 1: Where You Can Sell Online
Accordion content goes here ..
Section 1A: What Can You Sell Online
You have almost no limit to what type of product you can sell online.
You will learn the differences in selling physical products compared to digital products and how that plays into finances and operational requirements.
Section 1B: The Reality Ecommerce is Hard Work
This module is all about the reality. There are hundreds of YouTube videos of young punks in Lambo's and huge mansions who claim they made $30k a day with ecommerce. This module sets your expectations on what is reality and what is far fetched and unicorn level results.
>What your cost will be
> What your expected return will be
> When to expect increases in revenue
Section 1C: Payment Processors
Payment Processor
 This module covers who to get money from people who buy your product and what payment processors you should use.
Taking payments with PayPal
Taking payments with Stripe
Taking payments with GrooveSell
Taking payments with AfterPay and ZipPay types
Section 2 Market Research
Section 2: Market Research
Section 2 focuses on lead generation, prospecting and sales. Every business needs client sales to start the growth phase of operations.
Market research is key to your success.
We have to have a niche to promote our products to. This can be a generic broad niche or a super targeted niche category.
Section 2A: What Type of Ecommerce Brand Will You Be?
Section 2A introduces the various types of ecommerce brand opportunities available.
 Affiliate Product Sales
You never need to store inventory or deal with customers. All you do is promote the products. 
White Label Products
You will make a very small adjustment to a design or build of an existing product and have your own white label product label over that product. 
Make Your Own Products
This is more expensive than other methods but very rewarding. 
If that all sounds too hard then I can suggest you try:
Dropshipping
when you dropship you are a middleman handling the promotion advertising and taking the money but never actually touching the product. The product is supplied on the backend by usually a manufacturer or wholesaler. This allows you to do all the easy work upfront and once you get that customer money from the purchase you use that money to pay for the product. The product ships direct to the customer and the transaction is complete.
Cons: Its bloody competitive and cut throat. Prices are not the best and you have the delivery in a complete strangers hands.
Section 2B: Product Pricing Guides & Procurement
Section 2B We cover the pricing points and how to work out your cost base. This also covers procurement, shipping and logistics and building your own P&L sheet.
Section 2C: Ecommerce & Sales Software & Tools
Section 2C The ecommerce toolbox saves you hours of research and makes it easy to find what you need to then implement the actions required to get ahead of competitor 1, 2 and 3
The Toolbox < Click here
Section 3 Pricing Models
Section 3: Pricing Models
Section 3 is all around pricing and how to find partners who fit your ideal pricing model.
Section 3A: Pricing & Inventory Templates
Section 3A covers Pricing databases, Inventory templates and some other must have documents to make your operations run smoothly.
Section 3B: Shipping Partners Logistics
Section 3B We cover where to find reliable shipping partners. Logistics is always a nightmare but we cover some tried and tested providers and also some extra partners to consider.
Section 3C: Contracts Agreements & Legal Papers
Section 3C Focuses on having all the paperwork in place to cover your ass. 
> Legal
> Privacy
> Customer
> Platform Compliance
Section 3D: Piggyback on Marketplaces
Section 3D This is a big moment for you to decide if you will enter the big marketplaces and use established distribution and traffic channels but will need to consider the pricing if you take this step.
Section 4 Building Your Ecommerce Store
Section 4: Building Your Ecommerce Store
Section 4 Introduces the store build and how to set up each key page of your website.
Section 4
We start the build phase of your online store. This is a chunky module and can take some time.
You will need to make a call if you do the work or you find a partner to build the store.
Section 4A: Setting Up Your New Store
Section 4A
The likely candidates that we will be building on will be Shopify.com or WordPress with WooCommerce.
> Shopify
> WordPress
> WooCommerce
Section 4B: Store Plugins Apps & Settings
Section 4B
Each platform has its apps and plugins that help extend the function of your store.
> Shopify Apps
> WordPress / WooCommerce Plugins
Section 4C: Home Page Setup
Section4C
 Homepage & site wide guidelines
> Appearance
> Clarity
Sales copy
Value proposition & CTA
Design
> Credibility
Signals
Copy
Social proof
Advertising and promotions
> Usability
Navigation
Menu
Transactional UX
Images
Site search
Site speed
Section 4E: Category Pages
Section 4D Category pages
> Appearance
Design UX
Hierarchy of categories
Subcategories
Naming convention
Copy
Section 4F: Product Lists & Search Bars
4E Product page guidelines
> Appearance
Product pages
Transactional elements
> Clarity & Credibility
Product description
Shipping & returns
Trust elements
> Usability
Navigation
Accessories & related products
Section 5 Product Promotion & Optimisation Tactics
Section 5: Product Promotion Tactics
Section 5 Introduces some advanced features and settings for your website.
Section 5 is all about product promotions and how to get your products seen by more people on your store. 
Using deals and smart product placement you will learn how to interrupt patterns and place more sales opportunities right in front of your customers.
Section 5A: Product Comparison Guide
5A Product comparison guide
> Appearance UX
Design
Interactive elements
> Clarity & credibility
Section 5B: Cart & Checkout Optimisation
Section 5B Cart and checkout guide
> Appearance UX
Cart integration
Cart interaction elements
Form fields
Checkout navigation
Customer accounts
> Clarity & credability
Trust elements
Shipping & billing
Promotions discounts and coupons
> Sales Funnels
Upselling
Bundling
Cross selling
Section 5C: Home Page Setup
Section5C
 Homepage & site wide guidelines
> Appearance
> Clarity
Sales copy
Value proposition & CTA
Design
> Credibility
Signals
Copy
Social proof
Advertising and promotions
> Usability
Navigation
Menu
Transactional UX
Images
Site search
Site speed
Section 5D: Category Pages
Section 5D Category pages
> Appearance
Design UX
Hierarchy of categories
Subcategories
Naming convention
Copy
Section 5E: Product Lists & Search Bars
5E Product page guidelines
> Appearance
Product pages
Transactional elements
> Clarity & Credibility
Product description
Shipping & returns
Trust elements
> Usability
Navigation
Accessories & related products
Section 5F: Wishlist & Coupons
Section 5F we cover how important wishlists and coupons are when running your store.
> How to use wishlists
> How to use coupons
> Coupon marketing
Section 6 Product Launch Advertising & Marketing
Section 6: How To Properly Launch a Product
Section 6 Introduces ways you can market your store online and how to do product launches.
Section 6
This module will focus on how to launch your product and what steps to take in the promotion and marketing to maximise the growth and adoption of product idea to marketplace top seller.
Section 6A Paid Advertising Google Ads
> Google Search Ads
Pay per click
Search network
Targeting
Bidding strategy
> Google Display Network
> Google Shopping Network
Google shopping Ads
Merchant centre
Product feed
Targeting
Optimisations
Bing shopping alternative
> Retargeting
BONUS: Bing Shopping Ads
Section 6B Paid Advertising Facebook Ads
> Facebook Business Manager
Facebook pages
Instagram account
Ad account
Advertising tools
> Facebook & Instagram Ads
Campaigns
Ad Sets
Ads
Targeting
Pixels
> Facebook Ad Types
Google shopping Ads
Merchant centre
 
> Retargeting on facebook
Section 6C Email Marketing Guide
> Email marketing
List building
List segments
Email sequences
Email automations and tools
> Email series
Visitors
Interested
Buyers
Customers
> Website basics
> Technical SEO
> Keyword selection
> Content marketing
> Link Building for Ecommerce
> Performance & Results
Section 6E Social Media Channels Guide
> Social media platforms
Pinterest
Facebook
Instagram
Youtube
Others
> Social strategy
Posting schedules
Types of images
Messaging
Branding
Products
Section 6F Tracking & Performance Guide
If you ask me this is the most overlooked section of every ecommerce business. The stores I consult to spend big money advertising and acquiring new customers but fail to fix poorly tracked sales funnels and checkouts. 
This is the most important module if you are planning to grow the business. You do not spend another doller until you have your tracking sorted and you know what it costs to acquire a new customer. You will also need to know how much that customer spends. 
I can not stress this enough. Tracking is data intelligence and will inform you when to spend more and when to ease off.
> Website conversions
> Google analytics tracking
> Google ads tracking
> Facebook ads tracking
> Measuring results
Advertising Products on Google Shopping
Here's why Google Merchant Center is worth your time:
Getting on board with Google Merchant Center costs you nothing.
Your products will be seen by millions of the right shoppers at the very top of Google SERP (search engine result pages) above paid ads and organic listings.
After uploading your products, there isn't much to do (things are pretty automated).
What is Google Shopping?
If you haven't heard of Google Shopping, that's okay. You've seen it. You just didn't know what it was. It will change the way you shop online.
When you enter a query in the Google search engine, the ads that appear at the top in a carousel are the Google Shopping ads.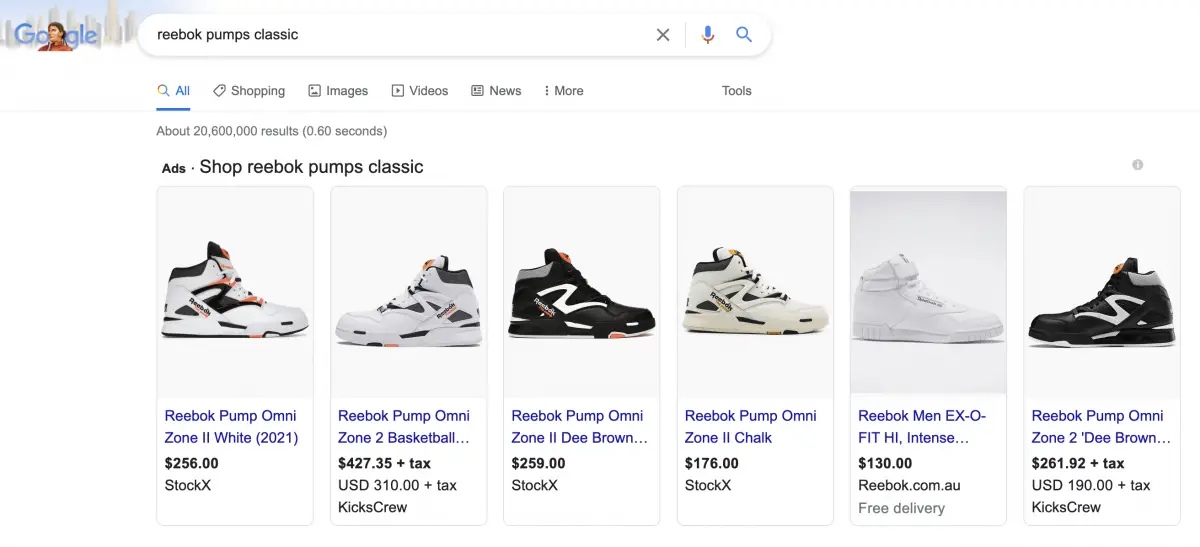 The Google Shopping ads appear at the top with product photos, price, and where they're sold.  It's prime real estate right at the top of the page. 
There is a dedicated results page in your Google search bar see the picture below.
You can get your products on Google Shopping and use this commerce search engine to generate a ton of untapped sales this year.
As a seller, you want to get your products on Google Shopping. 
And you'll want to manage your products and product ads with Google Merchant Center (GMC).
Google Shopping ads expose your products to people who want those products. 
You need the GMC to get your products to show up in the Google Shopping Ads carousel at the top of search pages.
If you're used to running PPC search campaigns, you are familiar with the Google Ads platform. Those ads show up on Google. You spend a great deal of time picking the perfect keyword for those ads.
But when you manage Google Shopping product ad campaigns, you do that with the Google Merchant Center—and those product ads show up on the Google Shopping network. 
The easy part?
Google Merchant Center auto-creates Shopping Ads for you based on the fields you filled in when you uploaded your product—no keyword research required. 
How much does Google Merchant Center Cost?
It's free. You pay nothing.
Okay, why's it free? 
Fair question. Simple answer:
Google Shopping makes bajillions of dollars off the ads you are going to buy to sell your products. It doesn't need to nickel and dime you at the dashboard. It needs to support your ability to sell your products so you buy more ads and you both make more money. 
Powerful Features at Your Disposal
The Google Merchant Center has specific benefits that make it a powerful tool for Google eCommerce marketers.
Benefit #1: It's free.
Benefit #2: Little leaguers play in the big leagues
You're likely not a giant retailer with famous branding. That's the beauty of Google Shopping. Anyone, even the smallest shops, can enter their products and compete with the mega-huge players.
Google Shopping levels the playing field.
Benefit #3: Reach
Hundreds of millions of people will see your products. And they can buy your products right in Google, at your eCommerce store, or your local brick-and-mortar store. 
Benefit #4: Organization
One of the biggest perks of having all your product information in one place is organization. Or, to be clear, the potential for organization.
#5: Google Sheets upload
This one is a biggie: You can upload customised Google Sheets for product data. This is awesome for you and it saves time Why?
Because most of the tactics we recommend to optimise your Google Shopping performance start with optimising the product descriptors. 
You can customise your Google sheets aggressively pre-upload. Learn more here Google resource.
The more detail you include in your product spreadsheet, the easier it will be to filter through your sheets, find products, and optimise for winners.
Using Google sheets gives you the flexibility to optimise your product data pre-upload then import it in one shot in a compatible format like XML or TXT.
Claim and Verify Your Website URL
Next, you'll need to claim and verify your website URL. There are a few ways you can do this:
HTML file upload
HTML tag
Google Analytics
Google Tag Manager
Each of these will involve adding some form of code to your website. Personally, I prefer going the Google Tag Manager route, because it involves the least amount of extra code. Also, you can then use Google Tag Manager to organize and consolidate other pieces of code on your site.
Google Merchant Center program options
Free product listing
Shopping Ads
Buy on Google
Dynamic remarketing
Customer Reviews
Free local product listings
Local inventory ads
Promotions
Product Ratings
Free Product Listing:
Show your products in more places to more people (for free)
Shopping Ads:
Promote your products with ads. Pick your images, list your prices, and provide product details across Google. Use Google Ads to create Shopping campaigns.
Buy on Google:
Sell your products directly on Google without fees. Let your customers purchase directly on Google via the Google checkout experience. 
Dynamic Remarketing:
Take advantage of Display Ads and report on the status of those ads from the Google Merchant Center dashboard. 
Customer Reviews:
Collect seller reviews from your customers and get a seller rating badge to display on your website.
Free Local Product Listings:
Show your physical product inventory in free product listings so people can see what's available in-store.
Local Inventory Ads:
Show your physical store product inventory in your Shopping ads. When shoppers click on your ad, they'll see your store location, hours, and inventory on your website or created by Google. 
Promotions:
Set up promos to attract customers with discounts, free shipping, and gifts. 
Product ratings:
Add a 5-star rating and review system to your Shopping ads. Ratings create product confidence to boost the clickthrough rates on your ads.
And finally—last tip!—keep your eye on how well you're doing over time.
How does Google Merchant Center work?
Before you start
You should have at least one active Google account before jumping in with Google Merchant Center (which means you will need a Gmail address).
You can link multiple accounts to the same GMC account if you have multiple Account Managers later on.
You'll also need a verified business on Google My Business to sell your eCommerce products. 
NOTE: You can transfer existing product data directly from another eCommerce platform, but there's no guarantee that your data will transfer properly if you jump from platform to platform.
If you have your Google account and you've verified Google My Business, you're ready to get started with the Google Merchant Center.
Upload multiple products to the GMC
This is where you'll do some fancy spreadsheet work. Setting up a Google Sheet with customised product descriptors is one of the biggest benefits of the Google Merchant Center. 
Google Shopping pulls the data from your feed (product spreadsheet) to create Shopping ads for your products.
The GMC provides a feed template, but you can customise that basic template. 
Under products, choose Upload multiple products.
Feed options
You have four options for setting up your feed:
Google Sheets
Scheduled fetch
Upload
Content API
Choose Google Sheets. This method offers the most granular control over your product feed.
Now You're Ready to Sell Products On Google
Then you are in a great position to start selling online inside Google search. 
From setup and management to optimization and tracking, you're now ready to sell on the Google Merchant Center and compete with bigger Google Shopping competition—no matter how small you are. 
Now that you know how to make the most of the Google Merchant Center to maximise your Google Shopping Campaigns, expand your strategies to remarketing, RLSA, and even other eCommerce platforms like Amazon.
Ecommerce Store Structure Matters
The structure of your ecommerce store will play a big part in the success of your store by providing Google and customers easy access to parts of your website. If you make it hard to find items the problems start to snowball and you begin fighting an uphill battle. 
A clean, easy to navigate menu is where you start planning. Think about how customers will be browsing your store. Will they shop by men, women or shoes, jumpers? good question to ask.
May topics easy to understand what they are about. Then get more specific underneath them with sub topics.
I always start by looking at the big players menu structure like Amazon. This helps guide you when selecting topics and sub topics. You should do the same.
How To Start Selling Online
There are a lot of ways that you can start selling products online and the best part is for some of them you don't even need to have your own product. I've been selling products online for a long time and it is hard work but it is also so rewarding. All it takes is for you to see someone in public wearing one of your T-shirts or caps and the reward is indescribable. It still amazes me to this day when I see people wearing or using my products and I hope I can share that feeling with you by helping you start to sell online.
Brace yourself this may be one of the biggest ecommerce marketing guides available online. I live and breathe ecommerce and online sales so bookmark this page it covers EVERYTHING!