GroovePages Review Full Funnel & Page Builder Software
GrooveFunnels Review: More Than Just a Funnel Builder
In this GroovePages review, you'll learn everything about GroovePages, GrooveFunnels and the difference between GrooveApps and GrooveKart.
Got confused by all the "Groove"?
So was I went tried to get an overview of all the different products and services from GrooveDigital trying to make sense of the GroovePages pricing, their special lifetime offer and all those apps.
When Mike Filsaime told me he left Kartra and started to create a competing product I was surprised.
However, he convinced me and many of my current subscribers to give GroovePages a try and become a beta tester.
What I found out is that this could be the opportunity of a lifetime, especially if you compare the pricing of GroovePages to other funnel builders like Clickfunnels, Kartra or Kajabi. But first of all, let us answer the following question:
What Is GroovePages and GrooveFunnels?
Groove Funnels is a suite of software applications to build sales funnels and websites developed Groove Digital, which consists of the landing page builder GroovePages, the shopping cart GrooveSell, the email service provider GrooveMail along with other software for selling digital and physical products online.
GrooveFunnels.com is currently called GrooveApps.com but the name will be changed when GrooveFunnels will officially launch.
This suite of apps is developed by Groove Digital Inc which first entered to online marketing world with their eCommerce solution GrooveKart which competes with Shopify.
Alternatives:
What's the difference between GrooveKart vs GrooveFunnels and GroovePages?
GroovePages is part of an all-inclusive, email marketing, list building, web-hosting, business management platform designed to run your entire business! It will connect everything in a single account for you to manage.
Play this video below!
There is a close similarity in the naming conventions that is not immediately clear. Many people get confused about the differences between the different software apps.
The full suite of GrooveApps follows a similar sound like GroovePages, GrooveMail, GrooveBlogs etc. 
I found it really interesting that this group of marketers and more so businessmen behind Groove were going after the Google GSuite of tools with Groove Mail, Groove Calendar, Groove Video, Groove Blog and more. That's some really high targets right out of the gate.
"I stumbled across GroovePages somehow and immediately took notice. A one time fee for more features than what my ClickFunnels account had and the winner UNLIMITED domains. I was all in. The sales page didnt sell it enough, logging in for the first time I could see the value right then and there how easy my online marketing was going to be from here on out."
Right now, the GrooveApps is still in beta and closed to the public.
However, affiliates like me are still able to provide early access to the software for a lifetime price.
To finance the project and get immediate customer feedback Mike Filsaime and the team behind GrooveDigital decided to launch it via a Kickstarter campaign (They decided not to run this on Kickstarter but their own platform).
Now it is really important to note that Yes Groove Pages is a high price but it is a one-time payment. When I compared all the things Groove does against what the other software I have I was shocked at what I could now cancel because I would have with Groove Pages.
GroovePages Lifetime Deal — How much is Groove Pages?
The Lifetime Deal which includes the GroovePages Funnel Builder and GrooveSell costs $497.
I have cancelled a lot of the software listed above. I will be keeping ClickFunnels and Shopify for some projects because they are running smoothly and getting results. That is a good point to bring up, you don't have to cancel any software once you have Groove Funnels. You only need to cancel subscriptions that you don't use or do not need. In my case ClickFunnels has entire funnel builds running on it and is making sales weekly.
Shopify is standalone to most of my other projects. I don't think Groove Kart the Shopify alternative is ready to take on Shopify just yet. I haven't fully used my Groove Kart yet and I can say I won't ditch Shopify for it yet. See why Shopify is so damn polished here - Shopify demo
GroovePages OTO
This is followed by an upsell to get access to the complete software suite for two additional payments of $497.
The First
+ GroovePages
+ Unlimited Domains
+ Unlimited Funnels
+ Unlimited Image Library
– GrooveKart
– GrooveMail, Groovewebinar all future apps
The Second
+ GrooveSell payment center
+ GrooveAcademy
+ GrooveBlog access
+ Most future apps
– GrooveMail
– GrooveKart
and you get all future updates and access
+ All future apps
+ GrooveKart Store LIVE
+ GrooveMail LIVE
+ GrooveMember LIVE
Here is my purchase note from January 2020 below. Most features have now been launched.
The Package
If you purchase today you will get an email like the one below telling exactly what you have access to and what is in development and expected release dates. The prices might seem high now but when you add up the monthly subscriptions of ALL of your other software I think you will agree this small one time outlay will save you thousands in the long run.
What will the price of GrooveFunnels be if I wait?
If you don't take this insane one-time payment option it will be moving to $199 per month. Less for an annual subscription but still way more than the one-time price. It'll be Monthly or Annual recurring. Pledge as a backer & pay only $497 One-Time and never make a payment again for the rest of your life.
Ultimately, what you want is to make funnel building an easy to do sales activity.
In the past, you've experienced failure because people like Russel Brunson make it sound so easy.
In fact, if you're like most people, you're frightened of wasting a ton of time and money (like you have been) on outdated and sometimes buggy technology like Clickfunnels.
The truth is, what's really holding you back here is you don't want to commit to paying $297 every month (=$3564/year) for the full suite of ClickFunnels or $197 per month to get unlimited access to Kartra.
This means, the real problem here is it's hard to make a profit if you are paying hundreds of dollars for your software stack.
I wanted a place I could manage funnels, landing pages, forms, email lists and combine my landing page and list management in one central place. Groove does so much more than that but it gives me what I want. 
The icing on the cake for me was Groove Sell where I can manage more of my business right next to the assets that are my business. Having that 1 click access to the assets and the one-click access to my money and affiliate offers is one of a kind. Thanks, Groove team.
Demo of the GroovePages Funnel Building Software
Before I go on I want to show you a walkthrough of the software and what it looks like on the backend.
What is GroovePages and why is this called GroovePages 2.0?
GroovePages is a cutting-edge landing page, website & funnel builder. The version 1 platform didnt have the focus behind that v2 does.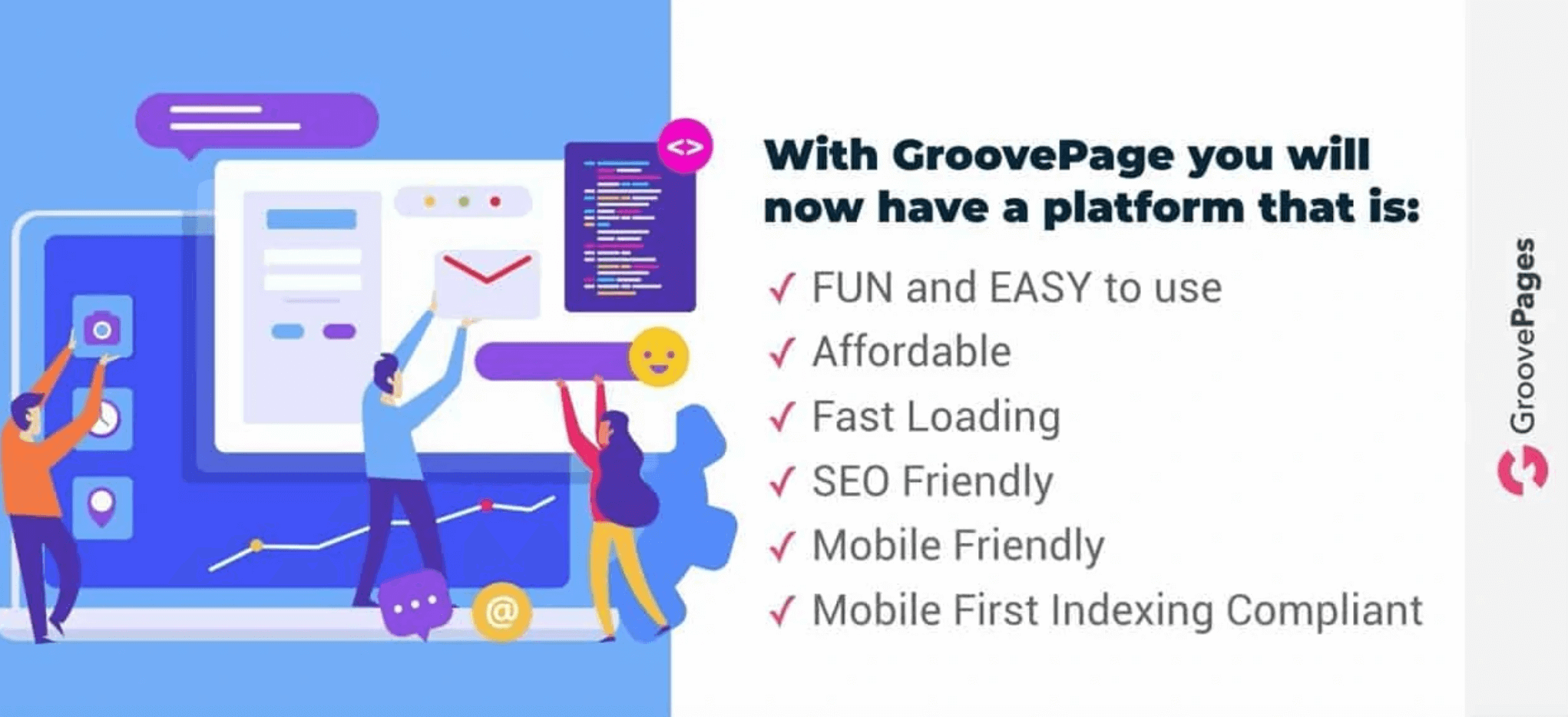 GroovePages vs Clickfunnels
GroovePages is using a progressive JavaScript framework called VUE:JS which means it's much less limited than its competitors.
ClickFunnels is powered by Ruby on Rails an older codebase.
What makes this page builder different from Kartra of Clickfunnels is that the code is mostly loaded on the browser and does not make requests to a database. This means your website will load much faster. Most landing page builders use a technology called Bootstrap, an older codebase that is not in comparision to todays available options. 
ClickFunnels limits your subscription to set number of domains and set actions and features. GroovePages does not you have unlimited everything when you purchase.
ClickFunnels support is helpful and I would rate GrooveApps support on par with ClickFunnels platform support.
ClickFunnels template library is very "templatey" feeling. GroovePages templates are more fluid in what they look like.
GroovePages is just coming out of beta testing for a full public launch and already has equal if not surpassed ClickFunnels in software features and they still have not rolled out all of the apps.
Want to know how ClickFunnels works? - Read my review here
Let's look at that a bit closer and see what you get today and what is coming up.
GroovePages Features Review:
Expertly Designed Templates
Blocks
Pixel Perfect and Font Perfect Landing Pages
A/B Testing
Countdown Timers
Access to Royalty Free Images
and much more to create sales funnels, webinar funnels and stunning branded websites
How will hosting & publishing work on GroovePages?
You'll get free hosting with USERNAME.GroovePages.com or Unlimited Custom Domains (CNAME Masking,) as well as FTP to your server, and can even download all your files for to create a backup.
Websites build on GroovePages will load lightning fast because they're just loading html.
Because Groove Pages is hosted on the Google's cloud platform this means even faster loading speeds.
After using the software for a few test projects, I have to say I really like it. Currently, they are pushing feature after feature to get ready for the official launch.
How will my websites be rendered on GroovePages?
All pages will be rendered html when you add them live. There won't be calls to their database because they found that to be an issue with many of the leading builders like Kartra or Clickfunnels. These landing page builders need to call to a database to load all elements and this prevents your website from loading faster because it really slows the servers.
What Are These Other Apps and What Do They Do?
What is GrooveSell?
Groove Sell is a shopping cart platform like SamCart or PayKickStart. This is one of my most used features, I can plan my offers, see results and make changes as needed.
It allows you to sell digital products, e-courses, and digital services.
It's the perfect solution for
Infopreneurs, Thought Leaders,
Passion Project Experts,
Coaches,
Consultants,
Influencers,
Saas and Software Developers
speakers,
authors, etc.
Groovesell includes an affiliate management platform that allows you to also have the most robust affiliate system on the market, along with reporting and analytics, 1-Click upsells and everything you need to run your online business.
Imagine Clickfunnels Actionetics platform or ActiveCampagin integrated into one system. If you prefer to stick to your current email service provider Mike Filsaime announced that GrooveFunnels will integrate with about 15+ email platforms as well.
I've been playing with this and I really like it. The lists are easy to manage, email campaigns work well in the platform and the builder is smooth.
For a company that promises so much, they have delivered. Yes, the beta in 2020 was a little buggy but they are well and truly past beta testing and taking it to the other marketing software companies. Groove Mail is awesome.
GrooveMember
*Editors note: I didnt have a fancy graphic for this feature my apologies.
Groove Member is A membership CMS management system for a simple digital course with different levels of access, Drip content, etc, It will not have things like Gamification and certification at the start, Maybe later. Maybe not. We will integrate with every other knows platform on the market if enterprise needs are needed.
The plan is to make this one of the integral parts of the platform and take on ClickFunnels for coaches and online tutors. 
GrooveWebinars (Or WebinarGroove)
*Editors note: I originally wrote this in June 2020 but have come back in to update the post with all the new features and news now Groove has over 2 million users
The official name still not final. Originally the launch of GrooveWebinars was slated for Sept 1 2020 and GrooveMember and Groove Video were slated for 2021. The Member and Video features are now live and working as expected.
However, after a poll in the GrooveDigital Facebook group, the group members and people who paid to back the project or become a beta tester wanted the option to create a membership for online courses and host their video first.
Right now, GrooveWebinar is working and being improved monthly. Cofounder Mike Filsaime announced that the webinar software is working to the standard that was promised but he and his team wanted to extend the functionality and integrations to make their product the number 1 in the market. Classic Mike going for glory.
Other GrooveProducts
GrooveMarketplace — A peer-to-peer place to sell templates and addons and plugins developed for GrooveFunnels.
GrooveAcademy — The one stop shop for all training on the GrooveApps platform suite and for action tips that will help users get the most from each app.
GrooveAPS — OPEN API for developers like the Shopify marketplace.
feedback.grooveaps.com is a place to leave feature requests. (Groovekart is at groovekart.canny.io)
And the Groove Support desk.
A place to get support for Groove Funnels.
+GrooveVideo
+GrooveBlogs
+GrooveMember
+GrooveCalendar
+GrooveHelpdesk
Ive been super excited to see the rollout of Groove Blog and I have not been let down by the release of the blog feature. 
You can now manage blogs as its own feature with pre made templates, layouts and functions.
Products that don't belong to GrooveFunnels (GrooveApps)
GrooveKart
GrooveKart Is a stand-alone eCommerce platform with state of the art premium features not available in other eCommerce platforms such as Shopify. GrooveKart is a direct competition to Shopify and comes with built-in apps that other competitors require shop owners to pay. It comes with high converting templates, scarcity, timers, layer app, reviews, upsells, down sell, retargeting, bumps and many more features.
With GrooveKart you can sell physical products using different sizes and colors, create several categories for various sub-niches. It comes with powerful reporting tools and analytics, shipping features, one-click product transfer, a built-in support desk and much more.
With the 1-click import feature, you can switch from your Shopify store in seconds
Do the original GrooveKart Customers get access to Groove Pages/ Groove Funnels?
When the company launched they were Groovekart. Later they made an offer to GrooveKart customers to get GroovePages for life for $497.
The upsell for that was 2 additional payments for $497 for the groove funnels suite. GrooveSell, Groovemail , member , video etc.
So anyone that paid for that under the "backer" offer or "beta" offer would get those items they paid for.
But purchasing GrooveKart does not give you access to GroovePages or any product on GrooveFunnels.
ReviewTrust.
ReviewTrust is a company that was recently acquired by GrooveDigital. and will be added GrooveKart and GrooveSell and will be back live in April 2020.
FreePageBuilder (formerly GroovePages 1.0)
The team of GrooveDigital spent more than $100,000 to develop a tool that is now FreePageBuilder but this project was our deprecated. Unlike GroovePages with is build on a new mobile-friendly development framework FreePageBuilder uses an older technology that is similar to Karta's Page Builder.
After being two years in development the "GrovePages 1.0"  was scrapped for new Groovepages 2.0 which is a complete new software and the code was written from the ground up.
So instead of trashing the code from GroovePages 1.0, the team decided to rebrand the Landing Page Builder and made it free to the world.
FreePageBuilder will be going live in a few weeks and everyone how became a backer of GroovePages got free access.
Currently, FreePage Builder is not available because they don't want to confuse the marketplace FreePageBuilder will we launch after GrooveFunnels this will go live to the public.
Other Products and Services from Groove Digital Inc.
Besides this impressive list of products Groove Digital offers even more services below the Groove Brand. Among them you will find:
GroovePay
GroovePay helps you to get merchant accounts so you don't get screwed by Stripe and PayPal.
PayDigital is an enterprise gateway and more and more coming soon.
GrooveAds
Groove Digital also plans to launch your ads.
When Groovefunnels will be launching in June 2020 Mike Filsaime announced that they plan to partner with an agency to rebrand as  GrooveAds.
This agency will manage your Facebook, Google Adwords PPC, and Youtube ads for 10% of your ads spend (Min $2500 a month.)
And for a $5000 Minimum, this agency will build your funnels, write your sales copy, and create your email sequences. (That's a damn good employee for $5k a month that's also doing your ads.)
GrooveKon
Because the guys over at GrooveDigital realize how important a personal connection is they will host a live event every January called GrooveKon. Admission will cost $497 to anyone part of GrooveFunnels.
For many years now Mike hosted the MarketersCrusie which sets sail every January and starts one day after GrooveKon. As a special incentive, GrooveKon is Free to anyone who will be joining on the Cruise.
GrooveDigital Industry Appreciation Party
If you want another chance to meet the team of GrooveDigital you can get to know them during the Traffic and Conversion Summit in at Sidebar San Diego every year for Free where they will be hosting a party on Thursday night with is the Last Night of the Traffic and Conversion Summit
Who Is The Amazing Team Behind GrooveDigital?
Mike Filsaime
Mike holds the distinction of doing more $1 Million Dollar launches for more brands than any marketer. He has generated over $125 Million following his passion, delivering game-changing software designed to eliminate the pain and frustration of running an online business. 
Historically, Mike was responsible for a number of well known "classic" software platforms, such as WebinarJam, EverWebinar, Kartra, DealGuardian, Butterfly Marketing, EvergreenBusinessSystem, and PayDotCom. 
John Cornetta
John's eCommerce stores do 6-figures per month. John's expertise in the needs of a superior platform made it possible for GrooveKart to not only compete with Shopify but to do it better, easier, and more affordable. John also teaches eCommerce and his teachings will be part of GrooveKart to create an unmatched solution.
Matt Serralta
Matt, the Architect of GrooveKart, has more than 10 years of senior and executive-level management experience in executive operations, sales, P&L, and the field of e-commerce. Former COO of  Prestashop as well as former consultant for Office Depot. Matt Brings years of e-commerce marketing and development experience to GrooveKart.
Mike & John have been the minds and leaders behind some pretty big releases over the past several years, and most of them involve platforms that aren't that much outside of what they're putting together now with the GroovePages 2.0 offer. Think Kartra. GrooveKart, GroovePages 1.0, EverWebinar, WebinarJam, etc.
Mattijs Naus
Part of the founding team at GrooveDigital and is the CTO at GroovePages and has extensive knowledge in building world-class software products for digital marketers, entrepreneurs, startups and small business owners.
Together this team has a vision and the know-how to exceed the closest competitors like Kartra or Clickfunnels.  If someone can have success these four will, as they've again & again over recent years.
More recently they have expanded to recruit Donna Fox as a community manager and David Lemon as a product education specialist who both are doing an exceptional job as the Groove Funnels community surpasses 250k members in the Facebook group.
The Vision Of Groove Digitial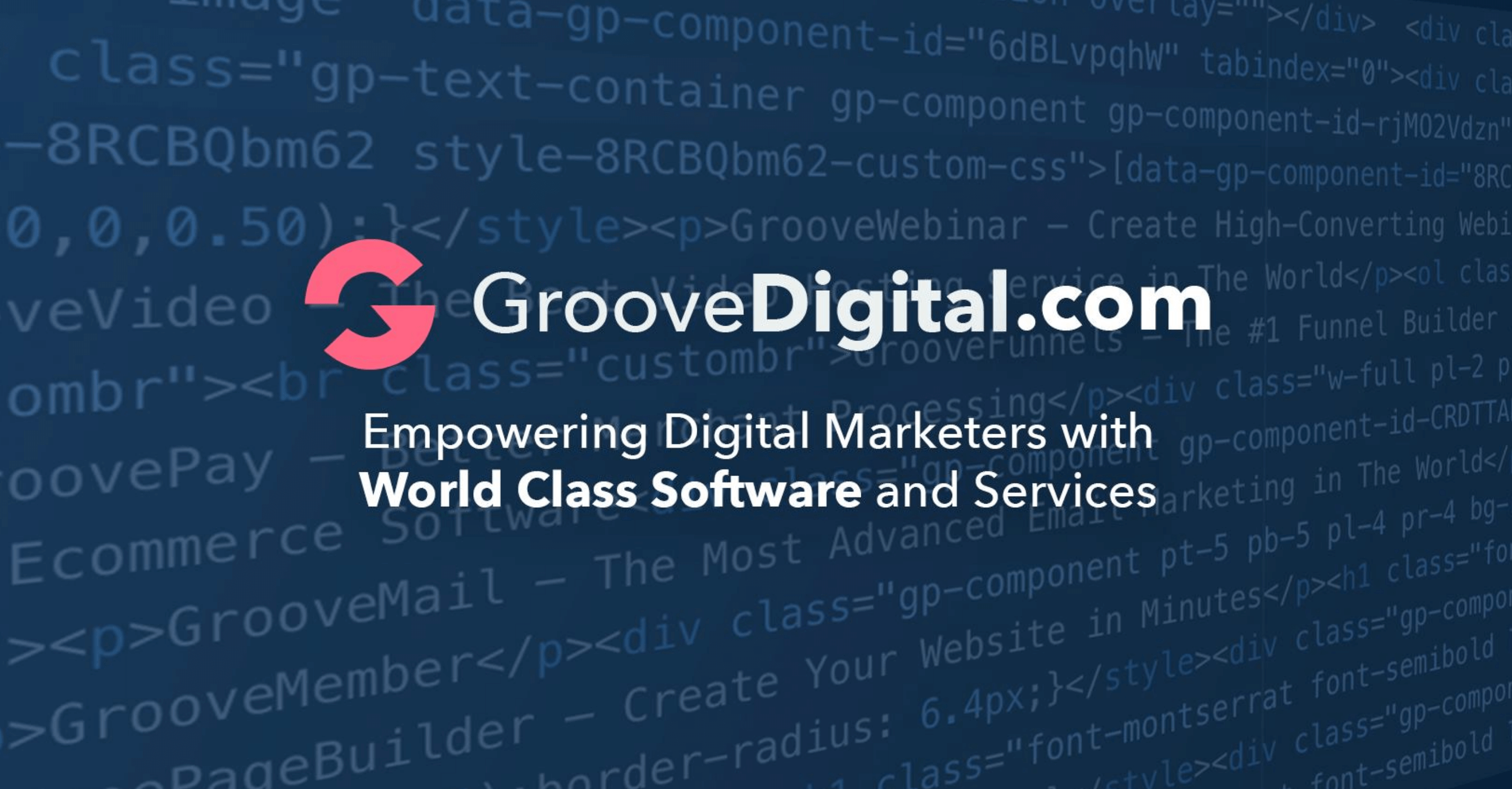 "We want to create THE Most Powerful, THE Most affordable, and THE Easiest to Use Software Platforms for eCommerce and Digital Marketers." - Mike 
Will There Be White Labeling for GroovePages?
The short answer is no. You need to be a major influencer with a brand. Otherwise, you will be happy with their affiliate network.
Can I Use GrooveFunnels If I'm An Agency?
Although GroovePages provides unlimited domains with this backer project and won't later, this is for One Family or Business. No exceptions.
However, if you are an agency GrooveDigital will work with you.
They have not decided on a price for Agencies that are Backers of the LIFETIME.
If you're interested, purchase now and then put a help desk ticket I when they launch officially.
Will there be API, Zapier & IPN Notifications?
GrooveFunnels will integrate with all major email service providers like MailChimp, Aweber, InfusionSoft, ActiveCampaign, Campaign Monitor as well as popular webinar softwares like WebinarJam, EverWebinar, GotoWebinar and many more.
As well they will have Zapier and a full open and robust API as well as an IPN (Instant Payment Notification) System.
Is GroovePages Right for Me?
In a nutshell, GroovePages software makes it simple to easily create high converting seo-friendly websites and sales funnels. This is why I chose Groove Funnels in the first place, for the ease of use.
GroovePages, provided by GrooveDigital, is all-in-one software suite that will replace clickfunnels or Kartra
You want this because Clickfunnels and Kartra will become outdated soon because they are building on old technology. At some point, you want to make the switch to GroovePages anyway and then you will pay more for less.
GroovePages is the Fastest Landing & Funnel Page Builder
The big payoff: It's built on the progressive JavaScript Framework VUE.JS which allows you to create sales funnels and websites in an easier and more efficient manner with better results.
What makes the GroovePages Deal special as opposed to other funnel builders (even the most expensive options) is you absolutely don't need to pay for any additional software whatsoever again to run your entire business.
GroovePages OTO and LifeTime Deal
Seriously, never pay for an email service provider or a software like WebinarJam ever again.
Something really helpful GroovePages does that you might not recognize at first is It is much faster than anything else I've ever tried.
They are just starting out but given their lightning-fast speed of implementation and having a CEO that helped to jumpstart Clickfunnels, this is a no-brainer.
By the way, GroovePages is not for anyone who wants ALL in one solution that works RIGHT now.
At this point in time, you'll only get the LandingPage and Funnelbuilder along with GrooveSell. But think of it like this, they are developing this platform to be THE BEST funnel building and ecommerce software available online.
GroovePages can be a long term investment. People who purchased the lifetime payment deal for ClickFunnels are a very rare few that still have those legacy accounts and now you are presented with a very similar offer. Save money right now and get your own GroovePages account.
If you need more than a landing page builder right away try Kartra, instead and replace it step by step with GrooveFunnels. (Just like Mike Filsaime does himself)
GroovePages is for every online entrepreneur that wants early access to a premium software like Clickfunnels, Kajabi or Kartra but wants to avoid the hefty monthly or annual fees in the upcoming years.
Now, nothing's perfect and I do want to remind you that GroovePages is still in beta, that's why you are getting this lifetime insane deal.
From my perspective, that's not a big deal because you either have a website and sales funnel right now, that you can replace step by step with GrooveFunnels and save thousands of dollars…
Or you are still in the startup phase and don't need all the bells and whistles that will GrooveFunnels will have in a couple of months.
Either way.
GroovePages Is An Investment
GroovePages is a great investment. Later you will pay more for less.
I love to have this software in my arsenal.
The cost is $497 lifetime and if you want full access to GrooveFunnels it will be two additional payments of $497.
When you compare this to Clickfunnels, you can choose to pay $3564 for Clickfunnels every year and still will not get half of what GrooveFunnels will offer in the next 12 months.
Get GrooveFunnels today because this lifetime deal will not be available any longer when GroovePages moves out of beta and you'll have to pay monthly fees as you do for Clickfunnels or Kartra.
Is GrooveFunnels free?
Find out
Free! Access to all tools with restrictions. No credit card needed. Access to some features will change when pricing reverts to monthly billing. Get your free copy here.
What will GrooveFunnel's pricing be after the LTD Ends?
I am a so called subtitle.
After GrooveFunnels comes out of beta, it switches to a monthly pricing model. Pricing starts at $99/month on the SilverPlan and $199/month on the Gold Plan. The Platinum plan which gives you access to all the apps in the GrooveFunnels Lifetime offer starts at $299.
Is groove funnels better than ClickFunnels?
Find out
When you combine faster loading times with blog functionality, it becomes obvious that GrooveFunnels will perform much better than ClickFunnels. The drag n drop builders are on par with each other but what defines the two are the small 1% in design. Groove is almost there but not as polished as ClickFunnels. I think for an all round tool Groove wins this hands down as ClickFunnels is at its core a funnel page builder.
How does Groove funnel make money?
Find out
To make sales because GrooveFunnels offers pre-made copy paste promotion tools for everyone. GrooveSell will give you all of the stats to tell you your clicks, your referrals, and your sales for free. Unlike platforms like Teachable, you don't have to pay extra to set up an affiliate program. There is also Groove Digital where they can handle your advertising and a Groove gig marketplace.