Ecommerce Website Structure and SEO
How to Build Optimised Website Structure
A website's structure is vital for its success. A look at the importance of good website structure for eCommerce websites and 4 important areas you must get right, including website hierarchy, URL structure, web code structure and navigation.
The logical structure of your website makes it easy for search engines to find and catalogue your site, as well as to make it easy for your visitors to navigate around your site and find the information they are looking for. Poorly built or architected websites are like prisoners who, even though they may be able to see the world outside their cells, can't breathe fresh air because the bars on their windows are too high.
If you run an eCommerce business, creating the right website structure can be particularly difficult. You'll have to manage the products, categories, price, customer reviews and so on, all from one central location. In this newsletter, we reveal the secret to creating a website or online store that will pull in more qualified traffic and convert it into paying customers.
In this article you will learn the ins and outs of how to build the optimal website structure for better SEO and user experience.
This guide is part of the build an ecommerce brand track.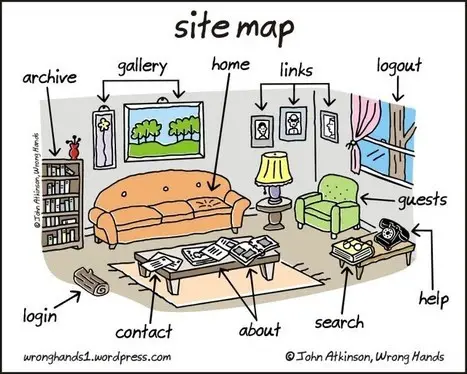 Why is website structure important?
When it comes to websites, especially eCommerce websites, structure is very important. A well-designed site will have proper page structures and elements which make it easier for users and search engines to find what they're looking for. You've got a lot of products to arrange. Some of them need categorising into product groups and some of those groups need further sub-organising into a logical system. Because of this, the structure of an eCommerce website is often given less attention than the product listings, product descriptions and other non-structural aspects of the site. This is unfortunate because getting the structure of an eCommerce website right is much more challenging, and thus, offers more opportunity for issues and mistakes to occur.
The good news is, the same structural rules that apply to a very small website also apply to an eCommerce website. The difference is, it's more difficult to implement them because of all the added bells and whistles (products, categories, etc.) you've got to deal with.
To improve the ranking of your website in the search engines C: To make it more accessible to your readers Here are the steps you should take to improve the readability and accessibility of your website:
When it comes to search engine optimization, your website structure is one of the most important elements of the entire process. If you don't have a structured site, the search engines have a very difficult time "indexing" or cataloguing your website and its content.
Websites should be structured in a way that is easy-to-use for their visitors. A visitor should be able to easily find what he's looking for on your website and should have no difficulty using your site.
Website structure is the foundation of a powerful search engine optimization campaign. If your website structure is sound, it will be much easier for search engines to find and list your pages in response to the most relevant queries.
A good user experience is the basis for a great customer experience. It helps users find what they're looking for and take action on your website. Whether your site sells information, products or services, it's vital your home page converts well. An average user will navigate several pages and interact with many on-page elements before taking action. Make sure your home page is as effective as possible.
This is what happens when a customer enters your Amazon listing. They see your product photos, read your product description, and browse your category pages. If they see something they want to buy, they click on one of your products, read the product details page, and then, decide whether or not to buy it.
A great eCommerce website is one that closely mimics the customer experience of going to a retail store. That means it needs to have product categories and product pages.
The benefits of getting website structure right
To get the benefits of an eCommerce website, it takes some effort and plenty of planning, but the rewards are more than worth it. By following the steps in this article, your website will get the best shot at search engine optimization (SEO), which will help your site deliver the most satisfying experience possible to website visitors, which will encourage them to buy from you.
These are the three primary benefits of a well-designed eCommerce website.
If your website is a big website, with hundreds of thousands or even millions of pages, then yes, search engines do "crawl" and "index" your site correctly.
Authority: The most important factor in whether or not your website will be successful is... authority.
The website should have a correct'structure', which means it should have headings, subheadings, lists, bulleted points, tables and so on. Google automatically shows sitelinks and sitelink search boxes for websites with these correct'structure' traits.
Your website is easier to use and navigate. It helps users get where they want to go faster and with less effort.
User experience. A positive user experience increases engagement, which is an important signal for search engine optimization.
You can make your product pages more browsable by adding a simple layout and a logical structure. This will make it easier for your visitors to find the information they need, compare options, and make a purchase.
Amazon is the easiest and the most compelling ecommerce website to shop on. Thanks to easy navigation and a compelling shopping experience, you can easily boost your sales and profits.
Shoppers with money to spend: People who are able to buy whatever you're selling again and again are the ones who have the most money to spend. They are the best customers to have, so make sure you give them the best shopping experience possible.
The first two benefits listed above are the ones which will give you the biggest increase in traffic. However, the third benefit which pertains to sitelinks also is important and just how important will be explained later in this newsletter.
When people visit the website, they don't necessarily click on each individual product category. Instead, what they are interested in is the overall category. So, by highlighting those main product categories (which is what the sitelinks do for you), you increase the CTR (click-through rate) of your ads / sales letters. This helps users get to key parts of your site without having to go to the home page. They'll click a link that's above the fold, which means it is right where they can see it without having to scroll down.
That's true of any website, not just Amazon.com. If you ever wonder why Amazon shows up so high in the rankings when you type a search phrase into a search engine, it's because of all the websites that have incorporated these words and phrases into their domain names. Make sure your website is set up for the search engines, but also make sure it is structured in such a way it is easy for human visitors to find what they are looking for.
1. One last thing, here are the bullets that best describe this newsletter:
2. A great deal of research shows...
3. Research also shows...
When someone types a word or a short phrase into the Google search engine, Google automatically determines whether the site you are optimizing for (the one with the highest ranking) should feature a little box that says "Search Results" at the top of the SERP (Search Engine Results Page). If that box appears, then your site has a properly configured search function.
First, you need to understand the importance of good website structure. We've explained the primary reasons for this, and now it's time for us to explain the steps you need to take to make this happen on your own website.
The Role of SEO in the Awareness Stage
Though it's true that driving awareness of your brand is mainly about creating great content, it's also important to think about other forms of marketing such as PR, social media, events and so on.
The keyword here is likely. As you know, when someone uses a search engine like Google to look for something, they don't necessarily end up buying anything. They may be looking for a solution to a problem, or maybe they're just researching the subject. Whatever their reason, if they are indeed interested in your product or service, they will click on one of the sponsored links (which are paid advertisements).
#1: Create your website hierarchy
The first step to structuring a website is to make a top level page hierarchy which will include your home/about page, category pages, sub-category pages, product pages, and any other important pages. A website should have a maximum of three levels of nesting. Anything more and you'll start losing link equity and page authority at each level. This is true for both humans and search engines.
While it's not always possible to stick to a strict page hierarchy of 2-3 layers, it is important to give top billing (most important) to those pages that are closest to the root directory of your site.
Your home page should link to a super-detailed layer of category pages. That way, if someone clicks on a broad category like "Shampoo" or "Deodorant," they'll be taken to a super-detailed page that lists all the different types of deodorants and shampoos that Amazon carries. Once you've decided what product categories you want to work with, you can then create top-level category pages that contain a list of related sub-categories. These sub-categories will help you to drill down further into a specific area of interest.
By now you should have all your product pages created and linked to from your home page. Now it's time to create the internal linking structure. This structure will find the "ideal balance" between making your site easy to navigate without diluting the authority and link equity of your product pages.
Another possibility is if you're selling a lot of paper and ink products (like books), you might want to create a "books" category for your site. But, this is not always necessary. If you look at the top-level categories, you'll see there are many more male than female products. Therefore, it makes sense to genderise the individual product categories so they reflect that distribution.
#2: Create a URL structure
After you've got your website navigation figured out, the next step is to create a URL structure that matches the navigational structure of your website. Your URL should be descriptive. It should include your primary keyword(s) for each page, and it should also include a short description of the page. If you use Google's free site analytics, you can find out the keywords used to describe the different parts of your website.
For example, when a user clicks through to a top-level category page and, then, navigates to a sub-category and product page, the URL should look something like this:
Your website sells a certain type of product. It's possible the product you're selling already exists on your website. If that's the case, simply replace the current product with the one described in STEP 2 above.
Whether you are selling sportswear or not, this information will help you sell more of whatever you are selling. It will give you a "killer" competitive edge that will separate you from the pack.
https://www.google.com/search?q=site%3Anikestore.com+Nike+Air+Zoom+Pegasus
Putting your keywords in the URL increases the likelihood of people clicking on your website. Search engines and users find websites with relevant URLs easier to read and comprehend than those without. You should always include the top-level category in your URL even if it doesn't add any additional value. It makes your life easier when dealing with the URLs for search engines, analytics programs, and people who are visiting your site.
You don't want to end up with meaningless urls either. They should make sense, and if they don't, your customer won't be able to find them.
Key words appear in the title, the subhead, the first few paragraphs (more often than not), the conclusion, and sometimes in the body copy as well. These are important words that must be included in your URL structure.
Shorten the URL as much as possible without losing the integrity of the website.
Make them specific A: Make them relevant B: Make them clear A: Don't bury the lead… B:
These words are important C: And your related keywords D: These words are also important E: But don't stuff your ad with them. Use them intelligently.
Don't use underscores instead of dashes in this situation. Instead, use real spaces between the words in the title.
Don't use meaningless numbers. Make sure each number has a specific meaning for your offer. A: I've been working in the direct response industry for more than 20 years.
Important numbers (the phone number, for example) should always be included in product URLs. It helps search engines better understand your site and gives visitors a convenient way to contact you.
Use only the necessary amount of characters so the meaning is clear in the context.
Make sure you're using secure encryption (HTTPS) on all of your URLs. Don't forget to test these AMAZON rewrites out in the field with real email lists and actual orders. Having a ranking factor is important for any ecommerce website. Especially one that processes payments. It provides an important layer of security and most users expect this from any company they're going to do business with – especially when you expect them to make payments on your website.

#3: Structure your web code
Messy code is one of the most common issues with eCommerce websites and it can cause problems for users and SEOs. If you don't clean it up, search engines will have a field day with your site and it will suffer from massive penalties. The first thing you'll encounter when you put up an Amazon ad is sluggish sales and lower rankings and this is also bad news for your conversion rates and search rankings. Loading speed is a factor in website rankings. People get very impatient when they have to wait to read your content or purchase something from your site. Make sure your site loads quickly and doesn't make your visitors crazy.
It's important to remember there are always more customers than there are sellers. It is unfortunate, but the fact remains, there are far more browsers, servers and internet connections than there are selling opportunities. If you haven't done so already, it is time for you to stop wasting hours and hours struggling with messy code and start taking the bull by the horns and using the awesome code-writing powers that have been given to you.
You want to use clean HTML and CSS as much as possible on your website, and keep JavaScript to a healthy minimum. Always test any website enhancements in a separate browser window to make sure they don't interfere with your site's usability or functionality. JavaScript that kills the performance of your web pages. It's very easy to write poorly-performing JavaScript. For example, it's very common to put lots of unnecessary properties on objects. Or, to use nested function calls where not needed. Or, to use array notation where simpler variable declarations will do. And, there are many other bad practices in common use.
Be aware the CMS isn't particularly code efficient. It's basically just a giant blog platform. That said, if you already know HTML (HyperText Markup Language), then using WordPress should be a piece of cake for you. It's a nightmare trying to keep up-to-date with all the different themes and plugins that are constantly being developed. By using this plugin, it puts the responsibility of keeping your website updated squarely on the shoulders of the person who is actually managing the site. If you're going to do any website "theme-switching" at all, you should do it with care. You should only use "theme switching" to add special functionality that's not provided by your current theme, and you should make sure it's a functionality that will enhance the look and usability of your website.
Outsourcing the development work on your ecommerce website is a great idea. Make sure you get developers who take page speed seriously.
You'll also want to use structured data markup on your product pages for Google to provide product information in rich search results. This is especially important if you are using Amazon FBA.
This could include: details like product ratings and price ranges to make your results stand out in the SERPs, increasing the "credibility" of your website and therefore increasing the number of sales / leads / subscribers you receive. Here's the link to the documentation from Amazon that reveals all the different types of structured data you can add to your product pages.
#4: Build your navigation system
A Navigation Bar - This is the top bar across the browser window that contains the title of the page you are currently viewing. It serves as the navigation bar for your website. C: Navigation Links - These appear as underlined text links at the bottom of a web page. When a user clicks on a link, he will be taken to a different web page.
Sub-navigation menu
Find C: Replace D: Click Finish E: Type in your own words for each of the sentences above and see how many extra
"Suckers!"
Eggs C: Cat D: Cow E: Chicken F: Dog G: Goat H:
The footer is the area at the bottom of the webpage containing various important information such as a website's name, address, phone number, etc.
External links Internal links are important because they improve the ranking of your site in search engines. But be careful!
You should make your top level links prominent and obvious. Make them look like real links and not like placeholders. Make them look like links you'd expect someone to click on. The biggest advantage of using drop-down menus on mobile devices is that they allow users to "skip to the next layer" of your navigation. This can be a huge advantage when you are using a long list of options. However, this is only true when the drop-down menu is used on a mobile device, otherwise it will be very difficult to navigate on a desktop.
Another alternative is to create an out-of-the-way page on your website (perhaps something like "Category Hijack #2") that has links to each of the subcategory pages. Then, using only that one page, you could link to it from your home page or any other page on your site.
If your website is not easy to find for what your are selling, it probably won't be successful. Implementing a search function will make your site easier to find for the customers who are looking for what you have to offer.
Amazon uses filters to help users refine their search. If there are too many products or categories to display, users can use the filters to focus in on just the products or categories they want to see. When you're just starting out, it's better to have too many filters than not enough. As your business grows, you will no doubt run into the situation where you do need more specific product attributes but don't know what they are or how to create them.
It's almost impossible to do a good job of mobile website optimisation. You'll spend more time wrangling your site to appear attractive and readable on small screens than you would on any other screen size. This is true. However, the more products, categories and filters you have, the more important it is to get your hierarchy right. Get the hierarchy right and your user experience will be as good (or even better) on smaller screens as it is on larger ones.
In general, more is better when it comes to navigation. More options, more levels, more sub-menus, etc. But be careful. If your site gets too complex, the user will get confused and overwhelmed. Keep it simple and direct.
There are no perfect answers to the compromises you have to make when designing a mobile website. You have to find the right compromises between coverage and usability.
There are so many websites and blogs that want fresh, unique content, it can be hard to find those websites and blogs that want only content from you. That's where this website comes in.
3 Clicks Deep Website Structure for Ecommerce SEO
No matter what kind of business you are in, chances are you've been overwhelmed at one point or another by how to best organize your product pages.  Good design is at the heart of everything to help customers navigate your website with ease. 
It's one of those things that most of us take for granted, but without which, there would be no point in even starting a website project. One of the primary goals of every website is to keep its visitors on the site as long as possible. Keeping your visitors happy, interested and on your site is critical to the success of your website.
The best website structure for SEO is a clean and uncomplicated navigation which helps your visitors find what they are looking for. A simple page layout makes it easy for them to navigate your site and retain their interest. 
Designing The Best Product Page Website Structure
Website structure (or website architecture) is essentially how you lay out your website pages and navigate your website. The best website structure for search engine optimisation includes elements such as a clean (or easy-to-follow) navigation bar, internal links that follow logical paths for your visitors, and being able to filter or sort information as they view it.
Your website should always be easy to find on your small business website. Make sure it is well organized with clear and concise headings and subheadings that give directions and guidance to your website visitors.
A good website structure rule of thumb: Put your most important content (for your customers) as close to the top of the click-through page as possible...
The main objective of an effective website SEO structure is to make all the information easily accessible for the user, so he can locate it, access it and take action as quickly as possible. That's it. Move forward.
Don't stop thinking about your goals or your dreams. They won't stop pursuing you either. This is true of any website, and is especially important for websites selling on Amazon. Remember, Amazon users are extremely discerning. They've got high standards, and are willing to walk away from a product or a website that is not well designed. Website structure, usability, and overall optimization are very important, and should never be overlooked.
Designing an effective website starts with a clear understanding of what the customer must do (the "funnel"), and then follows up with a well-developed layout that guides them effortlessly through the process.
Minimal site structure is important for 2 reasons:
The deeper you go into a website (or the more pages you have) the less "authority" those subsequent pages have. They lose their ability to influence the search engines.
In other words, they become less "trustworthy. When a search engine sees a web page, it uses various criteria to determine how well that page deserves to be ranked. One of those criteria is the "page authority" of the page. Do you know what your page authority is? If not, here's a simple way to find out:
This means their organic traffic will be harder to get, which will cause them to lose ranking position in the SERPs.
Which in turn, causes them to lose traffic… and profit! It's true that having more pages on a website gives the searcher more options.
However, if the page depth is too great, the search engine may decide your website is too complex and will give up on attempting to index it. More is more! That's what I'm saying!
People who visit your website are doing research, finding information or buying something from you. They're not necessarily coming just for fun or because they want to take a trip down memory lane.
Have you ever been on a website where, after reading a certain number of pages, the site becomes so complicated and dense that you just can't understand what it is saying?
If so, you will leave the site before you find out what you came for. This is one of the reasons Google has put so much emphasis on the number of "quality" website pages. Although flashy graphics and complicated web pages may look interesting and impressive, in the end, it is best to keep your web pages simple. The simpler your ecommerce site is to navigate, the more likely your website visitors will be to purchase your products. They'll get excited and eager to do so as soon as they walk onto your site.
Here's the process you need to follow to create the best website structure for SEO:
Your ecommerce website architecture should be designed with three layers: a. The topmost level is the website as a whole. b. Next comes the structure of your product pages – this is where your funnels are. c. Write out a rough draft of your bullet points. Use numbers or bullets to divide each point into separate sections.
As you review each section, ask yourself if that section would naturally lead a person to want to read the next section. If it would, number those sections consecutively so you can see at a glance how each section relates to the next. Adding useful filters to your product searches is also a great way to help your customers find exactly what they are looking for even if they don't know what they are looking for.
If you're looking to redesign your website structure and move some of your product pages, make sure to have a chat with an SEO expert. They will be able to assist you in making sure any redirects are done correctly.
Example for fashion websites:
One way you could structure your site would be by category like men's shirts, women's shirts, suits, sportswear, and so on. Another way you could organize your site is by product type like oxford shirts, button down shirts, casual shirts, and so on.
Yet another way you could do it is by subcategory within each of the main categories like oxford shirt pattern A, oxford shirt pattern B, and so on. The choice is up to you. When it comes to selling via Amazon, it's important to keep the customer in mind.
You must think about what they want and need, and try to give it to them in a way that makes them happy and buys more from you. Use "splat, splash, flat out!" in all your marketing campaigns. It dramatically increases the effectiveness of your campaigns and cuts down on your refunds.
Don't be afraid of using lots of exclamation points either. They add energy and enthusiasm to your writing and will make your reader pay closer attention to what you are saying. Once again, you don't need to do anything overly fancy.
And finally, here are my favourite headlines which, I believe, are most effective in a product announcement or sales pitch: The best website structure for your small business will be simple and clean.
That's why many of my clients hire me to create a new website for them. A cluttered site with multiple banners and sidebars will turn off your website visitors, making it very difficult for them to find what they are looking for.
A cleaner site, free from visual distractions, will please your visitors and give them a positive impression which will lead to a higher customer conversion rate for you. This book will show you exactly how to create a search-friendly website, no matter what your market or product. Your website will be easier for search engines to read and your site visitors to find what they're looking for.
The better designed and optimized your product pages are, the more they'll be featured on the SERPs, which will bring more organic traffic to those pages!
Process for Creating SEO Sitemaps for Ecommerce
The three click rule states that if a visitor has to click three different areas of your website to get to the information they want, then something is wrong with the design of your website.
You should group your product categories in such a way that it is easy for your customers to find what they are looking for. As mentioned above, the last page (the end of the path) of your website should only require three clicks for your user to get back to the place he or she started.
How do you test to make sure your users are finding what they are looking for? Try using Google Analytics. It's free and an invaluable tool for any online marketer. Adding useful filters to your product search will also help to expedite your customer's search process.
If you're looking to redesign your website structure and move some of your product pages, make sure to ask an SEO expert for help so you can make sure any page redirects are being done correctly.
This example is a perfect illustration of what optimal ecommerce site architecture looks like.
It helps you understand how you should be thinking about the product groups you'll be creating for your site, how you should be structuring those groups, and also what it means to be "creative (but still intuitive)" about how you'll be grouping your products together on your site. The more a customer can do for you, the less you need to do for them. And the fewer interactions you have with a customer, the better.
This is an important part of copywriting. If your customer or prospect is looking for a specific type of product (as they are when they type a search term into a search engine) using the right terminology will dramatically improve the probability of them finding what they're looking for. Just copy/paste this email into your email editor and send it to all your subscribers. It will improve the click-through rate on your email sign-up form by 300%! Your website structure should be as simple and clean as possible.
That will make it easy for your customers to find what they are looking for and help you to convert browsers into buyers. Having fewer places where your website visitors get lost or confused will mean that they will see and read the information they need, and eventually purchase what they came to your website to buy.
This will result in a higher customer conversion rate for you. A simple website structure, designed for easy indexing by search engines and optimized for ease of use by website visitors, will also help those people who are searching for your products find them faster. If you want to rank for the products / services you offer, you need to make sure your Amazon product / service pages are extremely well designed and highly optimized.
How to Do SEO Research for Product Pages
It's true, you should put a lot of thought into the site structure and organization of your web pages if you want your website to perform well. A big part of this is the internal linking within your web pages.
This is where the importance of simple site structure really comes to light. "PA" (Page Authority) is a score which tells you how well a webpage will perform when it comes to rankings. A higher Page Authority is better because it gives you a greater chance of outranking others, and you should strive to keep this number as high as possible.
It doesn't matter how high your DR is if your site is not optimised for search engines. One big factor in determining how well your site will do in a search is through search engine optimisation (SEO). One of the major factors of good on-page SEO is using long-tail keywords.
Here are a few methods you can use to do keyword research:
Keyword research tools are very helpful and you can find some interesting insights for digging deeper into your category. One you should check out is called SEMrush.
Use the "related searches" feature to gain more insight into the questions people are asking your niche. Using Google Trends, you can discover what people are searching for on Google and when they are searching for it.
This will give you an idea of what people are really interested in and aha!… what you should be marketing to them. Go to Amazon.com and search for your keywords.
The first suggestion that comes up is the title of the book, the product description, and sometimes (especially if there are several books with the same title) the actual book cover.
When your customers search for the items you sell on Amazon, they are most likely to type in exactly those words. Make sure the product descriptions for your main categories are written in a very natural way and contain those important keywords.
In Conclusion
It doesn't matter how good your website is if nobody finds it. And the best way to ensure that lots of people find your website is to make it as easy as possible for them to locate it. A website should be attractive, simple and sweet. It should have a few good pages and few that are not so good. That's the nature of the beast.
You can't have it all ways. If your visitors can find what they're looking for quickly, and enjoy it at the same time, you've ultimately won one of the hardest battles you'll ever have to face in the life of your small business. The first step to creating the best, and most successful, small business website for your customers is to understand what makes a website successful. In this case, we're talking about an ecommerce website which is why we've chosen to concentrate our efforts on this area.
Once you understand what makes an ecommerce website successful, you can go about making your own successful. If you put in the research time into your sitemap and structure you can rest assured your customers will love you for it and Google will reward you for it. I really hope this clears up the process and you feel more confident making website structure recommendations to your teams.
Topic Resources To Continue Learning