The most underrated marketing channel is by far email marketing. Almost every business can benefiet from running email campaigns, there is also the repeat customer factor involved in email campaigns. I am a huge believer in email marketing and this article focuses on the best ways small business can use emails to increase revenue.
The best email marketing software can be measured by various factors but ultimately my key factors will be different to yours and to the next person after you.
How I would approach this would be to pick 3 key things you want from your email software and stick to that as your must haves. Do not get caught up in all the shiny things a email tool can do, these are nice to haves not mission critical.
In this article, I will provide you with an overview of email softwares that I have used and would recommend for small businesses.
Why Choosing The Best Email Marketing Service is Important?
Email marketing is one of the most cost-effective marketing strategy for small businesses. I would argue that the biggest return on investment is from sending emails. It takes a little time setting them up working the sequences and trigger points but you can build a new revenue stream when you get it working.
This is because email marketing is easy to manage, gives you full control, and allows you to establish a direct contact with your customers. There are a lot of ways to harness emails to attract and retain new business.
Read my article on the importance of building an email list.
I do not think that the success of your email campaigns is dependant on the email softwar eyou use. Really they all do very similar things. Do you sacrifice having a nice dashboard and analytics view because the delivery is really solid or do you sacrifice solid delivery to have a nice clean dashboard view with easy to see analytics? thats a question only you can answer.
My top 3 Features
The numbers what are limits (subscribers & send rates)
Deliervability 
Sequencing & tagging of the emails
There are more but if I narrow it down to the key 3 things I need it is the above. All the other fancy features are nice but you can get them elsewhere if you really needed to.
What to Look for in a Good Email Marketing Tool?
A good email marketing service should enable you to create highly engaging email newsletters with an easy user interface (ideally drag-and-drop editor).
You should be able to easily send bulk emails that are actually personalized and targeted without a lot of work. This is also known as marketing automation.
You must have some feature that allows list segmentation to split groups up based on where they signed up or what actions they take like for example this group all clicked the link to the PDF download and so on.
Most importantly, a good email service provider ensures that your email campaigns do not end up in the spam folder. Deliverability is key or you will see very deminished returns on email if you cant get the email in front of the people.
Having said that, let's take a look at some of the most popular email marketing service providers and how they stack up against each other.
MailChimp
Mailchimp is one of the most well known email marketing service providers in the world thanks mainly to their heavy brand awareness campaigns and a forever free email marketing service plan.
Mailchimp comes with an easy drag-and-drop email builder, autoresponders, segmenting contacts into groups, and simple tracking for analytics. It also allows you to setup delivery times based on user's timezones, and you can setup segmenting based on geolocation.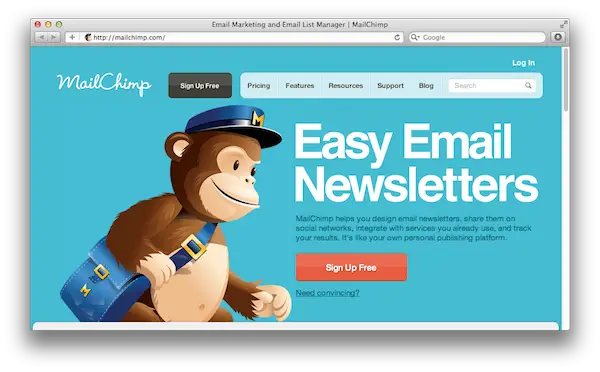 The best thing Mailchimps offer besides the FREE plan is the ease of the connection between your website and the Mailchimp platform. This is made very easy through an onboarding checklist.
You can integrate Mailchimp with:
WordPress
Shopify
Magento
and many more
I do not rate Mailchimp as a contender in teh marketing automation category. I will ackowledge they have a reliable email automation sequence feature but it lacks the creativity and inisghts other platforms have in the basic plan like Automizy.
While there is some features included in Mailchimps "Advanced" plans when you dig into the guts of them you can see that they are not as advanced as advertised. This is not a dig at Mailchimp but more of a realisation that Mailchimp is aimed at more beginner level and medium skilled users. That is great for you being a busy business owner you wont need to stuff around with all the intricate details and functions just to send a 8 email series.
The support offered by Mailchimp in my experience has been top notch. I never had to wait longer than a day to have a problem resolved. I love the knowledgebase and how to guides they make it even easier using the platform.
Mailchimp offers a free plan which allows you to send 12,000 emails for up to 2,000 subscribers. As you would expect this is a very limited plan restricting you to the most basic of features. The emails you send will include Mailchimp branding.
Using a scale as you grow subscription plan common in most email platforms Mailchimp is very affordable starting their paid plans at $10 a month. This allows up to 500 subscribers and then as you grow that you can increase the subscriber count.
Read How To Grow Website Traffic Guide.
Wishpond Emails & Social Media
There is a real thought for the user in how Wishpond showcases the campaigns and allows you to build the lead forms and the process of IF this THEN that type of functions.
If you manage emails newsletters and social media contests and campaigns then Wishpond is a great choice for your business.
Features
Wishpond's marketing automation  suite  makes it easy and affordable to nurture your website visitors and leads into sales. This is a REALLY powerful set of tools and it will enable you to automatically score and segment leads into lists based on activity and personal details, send personalized emails based on behavior, and much more.
You will find A LOT of features packed into Wishpond.
Email Automation
Online Forms
Website Popups
Landing Page Builder
Contests & Promotions
Referral Suite of tools
Leads Database
Marketing Automation
You wont find personalised content or any dynamic content features in Wishpond but considering everything else this tool does I would be happy to miss out on those.
Who is Wishpond Best For?
Wishpond is focused on business owners of small and medium sized businesses as well as marketing agencies who want to offer an afford marketing automation platform to their clients.
Most small businesses could make this work for their business I have no doubt. 
Integrations
Wishpond can integrate at the time of writing with just over 300 of the most popular platforms and I imagine this will continue to expand over time.
Wishpond offers multiple tools to enhance your online marketing efforts. It lets you integrate different features on your website to make it spectacular and attractive for visitors. You can build and publish mobile responsive pages in minutes and integrate different forms with them. These forms pop up when a visitor is on the landing page.
You can easily run contests and promotions on Facebook, Instagram and other social media platforms with WishPond. Also, it helps you to send personalized emails to the leads. It offers efficient lead management system which monitors a lead's activity on the website. This activity is later used to create a list which online marketers use to track their leads' behavior.
Lead management is the main feature of Wishpond as it offers multiple ways not only to attract leads but to keep them busy with product related feed. Just as the website visitor knows more about your product or shoots an inquiry to ask a question, an invisible relationship develops between you and the customer. With each minute spending on your website, the visitor is more and more convinced to buy from you. This willingness is monitored through navigational patterns of the lead which are recorded by Wishpond.
Pricing
I was very lucky to have picked up a great pirce on a lifetime deal but for those who missed the boat and do not have any wishes left 😆 hahah bad joke.
The price points are split into the following:
Basic Plan $49 month.
Most Popular Plan $99 month
Growth Plan $199 month
There is a free plan but very limited.
I really like this platform for small business. Wishpond is great for small businesses because it can do a lot of what you would need in everyday marketing campaigns.
Automizy Real Automation & AI
I want to highlight that I LOVE Automizy and how easy they made the entire process of signing up to getting something live.
Drag & Drop Editor
Create engaging newsletters with the Drag & Drop Editor, making the procedure a lot of fun. There's a bunch of proven templates to maximize the engagement of your emails.
Subject Line Tester
The AI predicts the performance of your subject lines, even before you distribute your emails. Subject lines play an essential role in view rate (indeed)
Visual Automation Builder
The automation builder is a great way to map out your campaign visually. You can schedule & send emails, based on the list the subscriber is on; link clicks in your previous emails, webpage visits, plus much more.
There are also ready-to-use automation templates that you should get started.
Automatic Resend
Resend the unopened emails to customers, with some other subject line & without having to redo the entire process.
Several clicks so you reach out to individuals in the event they missed from your previous emails!
A/B testing
You can article 4 subject lines for your emails & set them up for automation.
Automizy's machine learning algorithm will optimize and send the variation that guarantees the highest open rates for your emails.
Website Behavior Tracking
You could send automated emails predicated on the visitors' engagement (visits, clicks) on your website.
Think about sending a contact to the subscriber who just visited your pricing page with a discount coupon? Charlie, now that's the way you close a sale!
Advanced Filters
There is an endless amount of Filters to build your automated emails campaigns better.
You may filter your subscribers & customers based on the tags, lead score, email opens, clicks, the date they subscribed, UTM parameters, bounce rate, activities &, etc.
By merely applying these filters, you're sending laser-targeted emails to the right person, at the right time.
Campaign Analytics
With the detailed analytics, you can get a bird's eye view of how your campaigns are performing.
You can see the open rate, click rate, delivery rate, hard & soft bounces, no. of unsubscribes, best-performing links, plus much more.
If you're running A/B tests, you can also check how each one of the variations is performing.
Integrations
Automizy integrates with most of the industry standard tools like Slack, Zapier, Salesforce, Mailchimp, LeadPages, and even more. Plus, there are a lot of zap templates for you to plug & play.
To hook up with other tools, you're using; there is an open API from Automizy and I am super pumped about that.
While you are going to give attention to your content & marketing efforts, Automizy will look after engaging and converting your subscribers/customers.
Get Automizy AI Email Platform.
SendFox 
This is my pick for small business email platform that wont break the bank and gives you enough features that you can grow your business. The best thing about SendFox is the simplicity of the platform.
I spoke to David Kelly at SendFox about some changes to their forms and he had some plans for making them more appealing. He ackowledged that the forms were basic at the time but he has been hard at work building this platform out so its more intuitive and I really like where they are going with Sendfox.
I really like smart pages as a way to manage your presence online. This is my smart page SendFox Page.
Pricing is your friend with SendFox with a lifetime single price payment of $49 this is a no brainer. You can send up to 50k emails per month and most small businesses will not be sending 50k emails a month. 
To upgrade from this plan its $10 for every 1k additional you want to add on. Although you could pay $10 monthly for 70k email sends per month if you needed to.
This is hands down the easiest platform to setup and send emails. You should not need a developer to help with any setup. 
This is my pick for best email marketing platform for small businesses. I just want to thank David and his team at SendFox for making something so easy to use at an affordable price.
Improve Your Email Deliverability
All the email newsletter tools that I shared in this article have great email deliverability rates.
However there are few things you can do to make sure that your marketing emails always get delivered.
Use a Professional Email Address
Email platforms like Gmail, Outlook, and others have algorithms that look for spammy behavior. One of them is the sender email address.
You should as a business be using a professional email address like [email protected]. If you are not and possibly using [email protected] or other free email address it does look a tad tacky and makes the business feel very man in a van small.
This also hurts your email marketing BIG TIME! You need a domain verified email address to get better deliverability.
Send Targeted Emails based on Interests
I think this is the number 1 thing local businesses fail at with email marketing. As someone who invests in local business heavily I am amazed at some of the emails I get from local businesses.
If I signed up for updates about a vegitarian pizza range at my local pizza shop I want to know about all the veggie ranges of pizza that this store has. What I DO NOT want is constant updates about the exclusive meat range of pizzas.
There must be personalised targeting based on user behaviour as a minimum. Segmenting users into buckets based on behaviour and tagging users by the actions they take when you send emails are a must have for your email software.
If you get this right your email marketing campaigns will see improved open rate and click through rate which is a big factor in future email deliverability.
Email Marketing Software FAQs
Having helped thousands of users pick the best email marketing software, we have answered quite a lot of questions. Below are some of the answers to the most frequently asked questions about email marketing platforms.
Can I do bulk email marketing from my Gmail or Outlook?
You can but why would you want to do that? You should be using your primary domain associated email for better delivery and brand association.
The free options like Gmail and Hotmail etc are not designed for bulk email send campaigns.
Which is the best free email marketing service?
If I was on a budget I would start with Mailchimp or Moosend for the free account services. These will be limited and feature the platform branding but as you grow you should be moving to a more pro version where you have more control.
This is not free but at a one time price for lifetime access I highly recommend SendFox emailer at $49 one time. Get SendFox.
How much does email marketing cost?
Your email marketing cost will entirely depend on the number of subscribers you have, the number of total emails you send per month, and the email platform you use. On average, a small business email marketing costs is around $20 – $300 per month on email marketing given that they manage their own campaign. If you use an email marketing agency, then your cost might be closer to $500 per month or higher.
Are there other email marketing platforms that are not listed here?
Yes, there are literally hundreds of email marketing services out there, but we have not listed them all here. We believe that creating a full email platforms list would create more confusion and cause choice paralysis for non-techy readers.
We have tried all the top major email marketing service including many that are not in our email platform lists above such as: ActiveCampaign, HubSpot, Ontraport, Mailjet, Campaign Monitor, InfusionSoft Klaviyo, Marketo, Eloqua, Pardot by Salesforce, Sendloop, iContact, Moosend, Emma, TotalSend, SharpSpring, MailPoet, and so many more.
The top email marketing services that we have chose to include in our list provide the best features for the best price and features.
Key Takeaway: The Best Email Marketing Service
In reality email marketing platforms are a dime a dozen but there are some champions among the dirty dozen.
My Top Picks:
Mailchimp
My goals may not match your business goals so this is based on myneeds and wants. I love how quick and easy to setup SendFox is and the functionality that Wishpond allows especially around contests and promotions. 
If you are a one man in a van type business I suggest SendFox based on simplicity, time to setup and pricing.
For local business I suggest Mailchimp or Wishpond for the baseline features.
For ecommerce stores I suggest either Wishpond or Automizy. This will help with store growth and engagement campaigns and product launches.
You should select an email marketing software that can scale as your business grows. I say this because Ive been in that horrible position where my email software was great for small below 5k email lists but extremely expensive when scaling to 20k email lists. The migration from one to the other was a very stressful and draining experience. Some platforms now offer migration services between platforms and I think thats been a long time coming.
I hope you have found this useful and now have an idea on what are the best email softwar eptions for your business. As always if you enjoyed this article and found it useful please give us a like share or comment below and thanks for reading.
Here's a powerful way to make your marketing stronger. Write out an offer that your dream clients would love and be hard for them to say no to. Then see how close you can get to creating it. Once you do launch and promote it everywhere. This sounds simple but so many...
read more