E-Commerce Business Models and Revenue Models Guide
E-commerce Business Models and the E-commerce Store
I am a big advocate for e-commerce business and encourage everyone to at least give it a go. Having the power to change your life with an online store is open for everyone, but the sad reality is that not everyone will succeed. In order to help prepare as many people as I can with the knowledge to help when starting out here is a simple guide on the types of e-commerce opportunities open to everyone.
The concept of an e-commerce business model isn't new. In fact in the recent situation of the world everyone was projected forward into the known e-commerce gold rush as it is called thanks to COVID forcing more people online. 
Related Guide: Start An Ecommerce Store.
E-commerce is simply the buying and selling of products or services over the internet. The type of e-commerce store you have will vary depending on your approach to your customers, your inventory and your distribution style.
In this article, we are breaking down the diverse types of e-commerce business models so you can choose which will be the right fit for your e-commerce store.
Which Business Model is the Best Fit for your E-commerce Business?
Understanding the e-commerce business model and setting yourself up for success in the beginning is a key for lasting success in the online retail space. It is imperative that you understand your business model, know your target audience and know what structure will best align with your customer's needs. Before you consider your revenue model and fulfillment options, you need to understand who your customers are and what niche product or service you are providing them.
Related Guide: Build A Store Online
B2C Business to Consumer
Business-to-Consumer
In this business model (B2C), the business sells to the person who ends up using the product, the end-user. For example, consumers can purchase from the Amazon platform from any Amazon retailer.
B2B Business to Business
Business-to-Business
In this business model (B2B), the business sells their product to another business. For example, Chocomize is a streamlined operation that focuses on creating unique corporate gifts that help bring awareness to your brand and satisfy your clients.
Consumer to Consumer
Consumer-to-Consumer
In consumer-to-consumer (C2C), goods and services are exchanged in an online marketplace. The individual sells their product to another individual via a marketplace like eBay.
C2B Consumer to Business
Consumer-to-Business
In this business model (C2B) the individual (the freelancer) sells their services to companies who are the end-user.
E-commerce Revenue Models
Sales Revenue Model 
This is the most common business model among users and the profit, as in the name, comes from selling services or products online rather than through a brick-and-mortar only store. There are single brand websites- such as the North Face- that only sell their specific product, or there are marketplaces such as Etsy that have various vendors from different parts of the world selling on their website.
Subscription Revenue Model 
In this revenue model, a company charges an ongoing fee for services provided over a long period of time. Subscription boxes also fall into this category. An e-commerce model where consumers pay a monthly subscription fee and in exchange receive a bundled box full of a variety of items chosen by the retailer. To bring in revenue from this model, you will need a niche product, a target customer and a cost-effective way to source your products. This model is profitable but isn't for the faint of heart, so be sure to do adequate research before deciding to hop on the subscription box bandwagon.
Sales Channels: Direct vs. Marketplace
Personal Website/Single Brand
A personal website or a single brand website is an e-commerce store that only sells a specific brand. The Nike e-commerce store sells only Nike brand products.
Shopify
Shopify continues to dominate as one of the leading e-commerce store platforms. Harley Finkelstein, the President of Shopify said recently in their Q1 2021 Financial Results Conference Call that "More merchants (are) joining Shopify that are first-time entrepreneurs. One of my favorite stats to talk about is that every 28 seconds a new entrepreneur gets their products for sale on Shopify. That is important because that shows that we're not only growing our piece of the pie, but we're growing the pie itself. We are growing the actual market."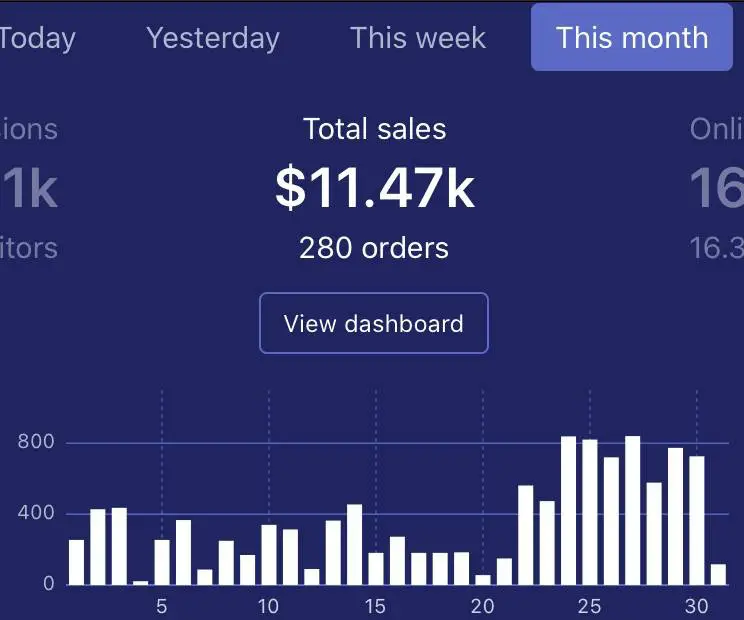 Amazon (FBA)
Fulfillment by Amazon businesses are increasingly growing in popularity. I know I will never sell with Amazon again after some outrageous mishaps with logistics, orders, charges and storage overcharges, this platform has burnt me too many times.
With an Amazon Seller Account, you can create an FBA business. The key benefit of this business model is the fact that you store your products in Amazon fulfillment centers, they pick it up from the center, package it, ship it to the buyer and provide customer service for all your products. Marketplace sellers have increasingly started to adopt FBA to leverage Amazon's warehouses, fulfillment infrastructure, and customer base for significant financial gain."
Other Third-Party Platforms
There are other e-commerce store platforms that are gaining popularity. The following is just a sample of the many third-party platforms that are available for different niches in the e-commerce space.
WooCommerce
WooCommerce is an affordable plug-in for WordPress that makes selling products and services easy and cost-effective for anyone looking to open an e-commerce store. WooCommerce is completely customizable and is easy to use.
I really enjoy working with Woocommerce, it so easy to use and can accommodate as large an inventory as you can imagine.
The following are website builders that you can use to build out your e-commerce business. The following three examples are not exclusive to e-commerce. 
Backend Logistics and Processing
Order Fulfillment Options
The e-commerce industry is complex and has many facets that you should consider before you decide which e-commerce business model you want to choose. The following is a quick introduction to the e-commerce industry and its fulfillment options:
Third-party Fulfillment
The third-party fulfillment model is an e-commerce business model where the retailer outsources the fulfilment. This model is different to dropshipping in that a fulfillment house is hired by the business and the warehouse is responsible for collecting from the supplier, keeping the product at their distribution center and then packaging and fulfilling the order.
The dropshipping model is an e-commerce business model where the business does not have possession of the product they are selling. The store owner holds no inventory and the orders are sent to the manufacturer directly. They are responsible for shipping the item to the customer, not the e-commerce business owner.
Dropshipping helps eliminate inventory risk, it takes less time, lowers ongoing costs and you have an immense amount of product flexibility.
How to Dropship on Facebook Marketplace.
In-house Fulfillment
The traditional order fulfillment model is most like that of brick-and-mortar retail. The owner of the business buys the stock wholesale. The business owner then delivers to the consumers directly. The benefits of traditional order fulfilment include lower costs of goods sold, inventory management and brand control.
With this model you can be more in control of your stock and you don't have to highly rely on suppliers. You also do not have to worry about missing items or low quality because you are responsible for this over the supplier before the product reaches your customer. You will spend more time on this model and have more ongoing costs and you do not have as much product flexibility.
Different Target Markets
When assessing your target market for your e-commerce business, you want to make sure you are validating your choice with market research. Start by defining what age bracket you want to target, their gender, location, even income level or education.
Branding is everything in E-commerce, Read my guide on Branding.
You also want to always make sure you have a trial run to be able to evaluate whether your specific product or service will be successful in the target market you have chosen. We have laid out different real-world examples of successful e-commerce businesses that have narrowed down their target markets well and why they have found success by doing so.
In Short
Ecommerce is an opportunity for everyone who has an idea to start something for themselves. In some examples listed above you don't even need to have a product you can sell other people's products. Now e-commerce is not easy it takes commitment and at least 2-8 months to get some traction, those with money for advertising will grow faster than those who cant advertise. Go out today and Start something!